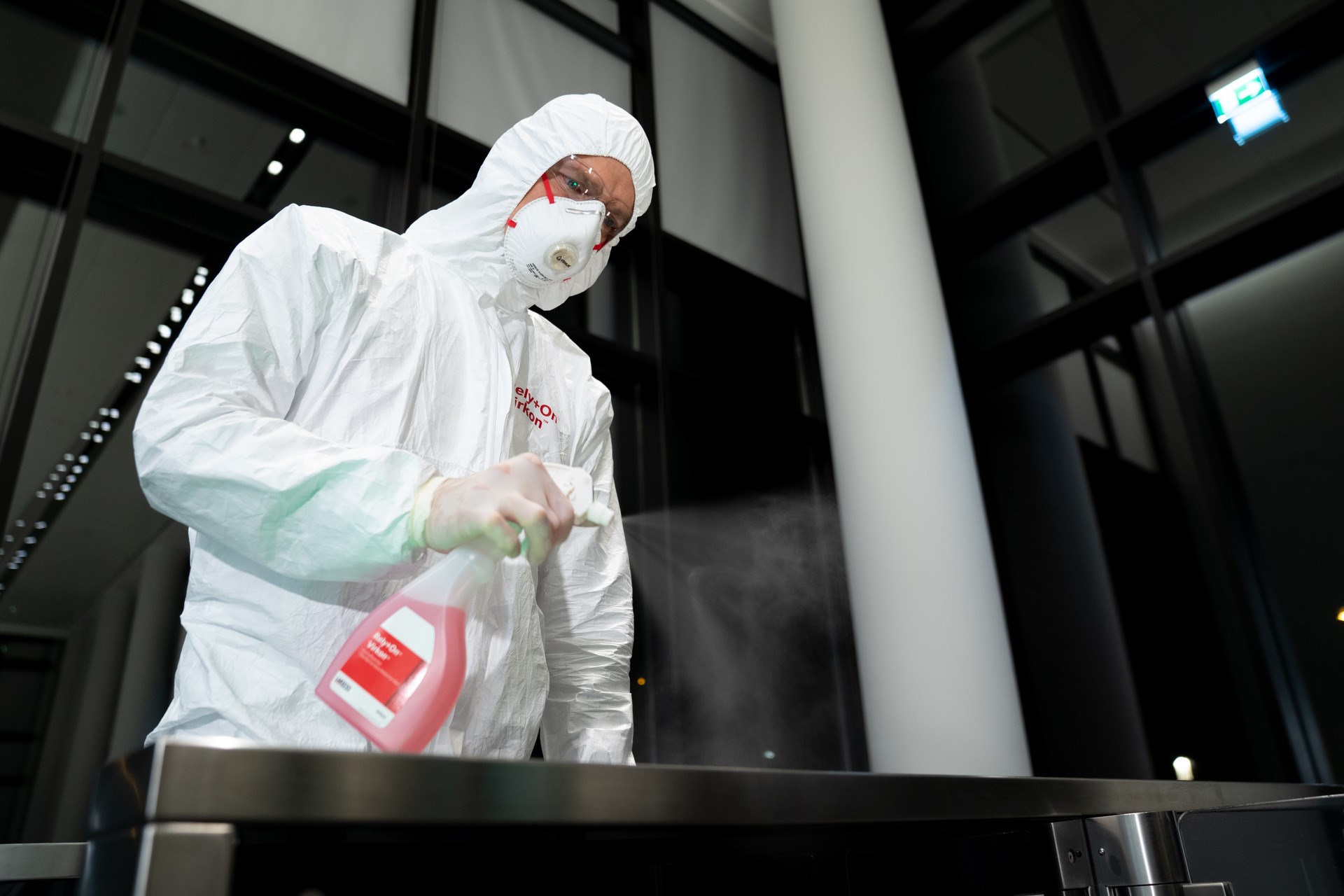 Cleaning surfaces is good,
disinfection is better
The coronavirus has been the focus of attention for nations around the world for months. Wherever people gather, strict rules must be observed and hygiene has the highest priority. This applies not only to medical facilities, but also to schools, offices, shops, and recreational venues. It is essential to disinfect all surfaces, equipment, and furniture, for example with Rely+OnTM VirkonTM from LANXESS, which kills coronaviruses in just one minute.
Disinfecting surfaces in schools and recreational facilities, too

While frequent and thorough hand washing at home is enough to destroy viruses, surfaces and objects in public areas, where many people congregate, must be properly cleaned and disinfected. These include:
doctors' offices, clinics, and hospitals
schools and day care centers
gyms
restaurants and catering establishments
municipal facilities and offices
institutions and venues with high public traffic volumes
Clean or disinfect? Here are the differences
Visible dirt is removed during cleaning, but microscopic viruses and bacteria can survive most simple cleaning efforts. Nevertheless, according to the Robert Koch Institute, normal cleaning with common cleaning agents can significantly reduce the concentration of pathogens on a surface, notably by 50% to 80%. It is important to frequently change the cleaning water, cloths and sponges, though.
However, with disinfection the concentration of pathogens on a surface can be reduced even further – by up to 99.9 percent. Furthermore, even if complete sterility is not achieved, disinfection prevents the risk of contracting a disease from a surface. However, disinfection is only effective if it is carried out correctly and a reliable antibacterial/antiviral agent is used.
Using Rely+OnTM VirkonTM correctly: Here's how
Rely+OnTM VirkonTM destroys the coronavirus in just one minute
The broad-spectrum disinfectant Rely+OnTM VirkonTM from LANXESS cleans and disinfects in one step. Also, a recent study conducted by the independent biolab Microbac Laboratories, Inc. confirmed that it acts extremely fast against the coronavirus SARS-CoV-2.
At a dilution ratio of 1:100, Rely+OnTM VirkonTM completely inactivated the SARS-CoV-2 virus in only 60 seconds.



Rely+OnTM VirkonTM is equally effective against influenza and other viruses
The LANXESS disinfectant is also effective against many other viruses, such as
Influenza A
Hepatitis A, B, and C
HIV
MRSA
E-coli (ESBL).
"Effective hygienic cleaning and disinfection measures are currently more important than ever. The fact that Rely+OnTM VirkonTM works so quickly when disinfecting hard surfaces and equipment opens up additional possibilities for many users to contain the COVID-19 pandemic."
Anneliese Bischof,
Head of the Disinfection market segment at LANXESS
Easy to use: A little powder makes a lot of disinfectant
Rely+OnTM VirkonTM is a powder that is dissolved in water and sprayed onto solid surfaces and equipment. The spray destroys key structures and compounds of microorganisms by oxidation, thus eliminating the virus.
Since the disinfectant is in powder form, it is very economical. One kilogram of Rely+OnTM VirkonTM powder produces 100 liters of liquid disinfectant when mixed at a ratio of 1:100.
"We currently have neither a vaccine nor officially approved drugs to fight the global corona pandemic. Aside from keeping your distance and washing your hands, disinfection remains the method of choice in the fight against the spread of the disease."
Anneliese Bischof,
Head of the Disinfection market segment at LANXESS
Disinfectant Rely+OnTM VirkonTM for hundreds of German schools
At the beginning of the year we donated one ton of Rely+OnTM VirkonTM to hospitals in Wuhan, China. In April, 13 more countries that were particularly hard hit, including Italy, the UK, India, the US, Brazil, and Mexico also received a total of one million liters.
We also donated the highly effective surface disinfectant in tablet form – along with spray bottles – to 470 schools near LANXESS sites across Germany, including schools in Cologne, Mannheim, Brilon, Krefeld, and Bitterfeld, as well as in many other localities. "We want to help stem the worldwide spread of the coronavirus," said LANXESS Board of Management member Anno Borkowsky. "With our disinfectant Rely+OnTM VirkonTM we can make an effective contribution to achieving this."
explore our company and products