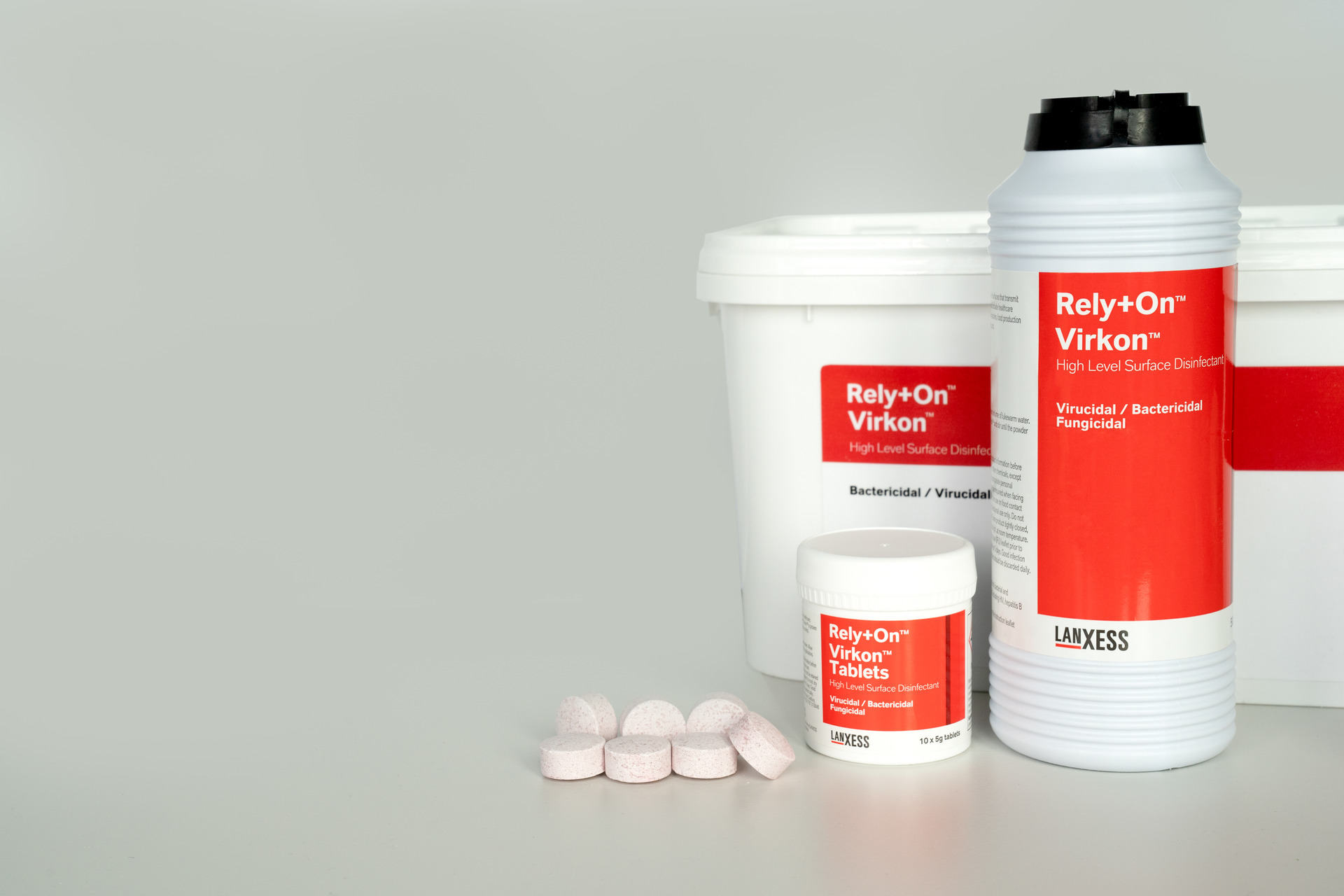 RELY+ON™ VIRKON™ IS THE DISINFECTANT OF CHOICE FOR ROUTINE DISINFECTION OF HARD SURFACES
Available in Europe

Effective against Hepatitis A, B, and C, HIV, MRSA, Influenza A Virus, E- coli (ESBL), Klebsiella pneumoniae (ESBL) and Coronavirus Middle East Respiratory Syndrome (MERS)*

In-use 1% solution is non-irritating to eyes and skin

No fumes or offensive odour

Compatible with most hard non-porous surfaces

Cleans & disinfects in one step

Respirator face plate disinfectant

Convenient to ship and store

Long Shelf life (powder 3 years; tablets 2 years)
Effective as determined by European EN standards (bactericidal, fungicidal and virucidal efficacy data)*
* The specified uses and registered claims may vary from country to country. Please contact LANXESS directly to verify country–specific approved usages.
RELY+ON™ VIRKON™ TABLETS
Rely+On™ Virkon™ tablets are convenient to store and easy to use. Tablets are especially suitable for low volume applications applied by a spray bottle. Dissolve one tablet per 500 mls of water and the solution is ready for use.
Available in:
50 x 5g packs

10 x 5g packs
Always check and observe the local site requirements concerning the disposal of solutions entering waste water treatment facilities. Operatives should always further check that the quantity of powder to be added is appropriate to the volume of water used - always refer to the instructions in the product instruction for use leaflet which you will find below.