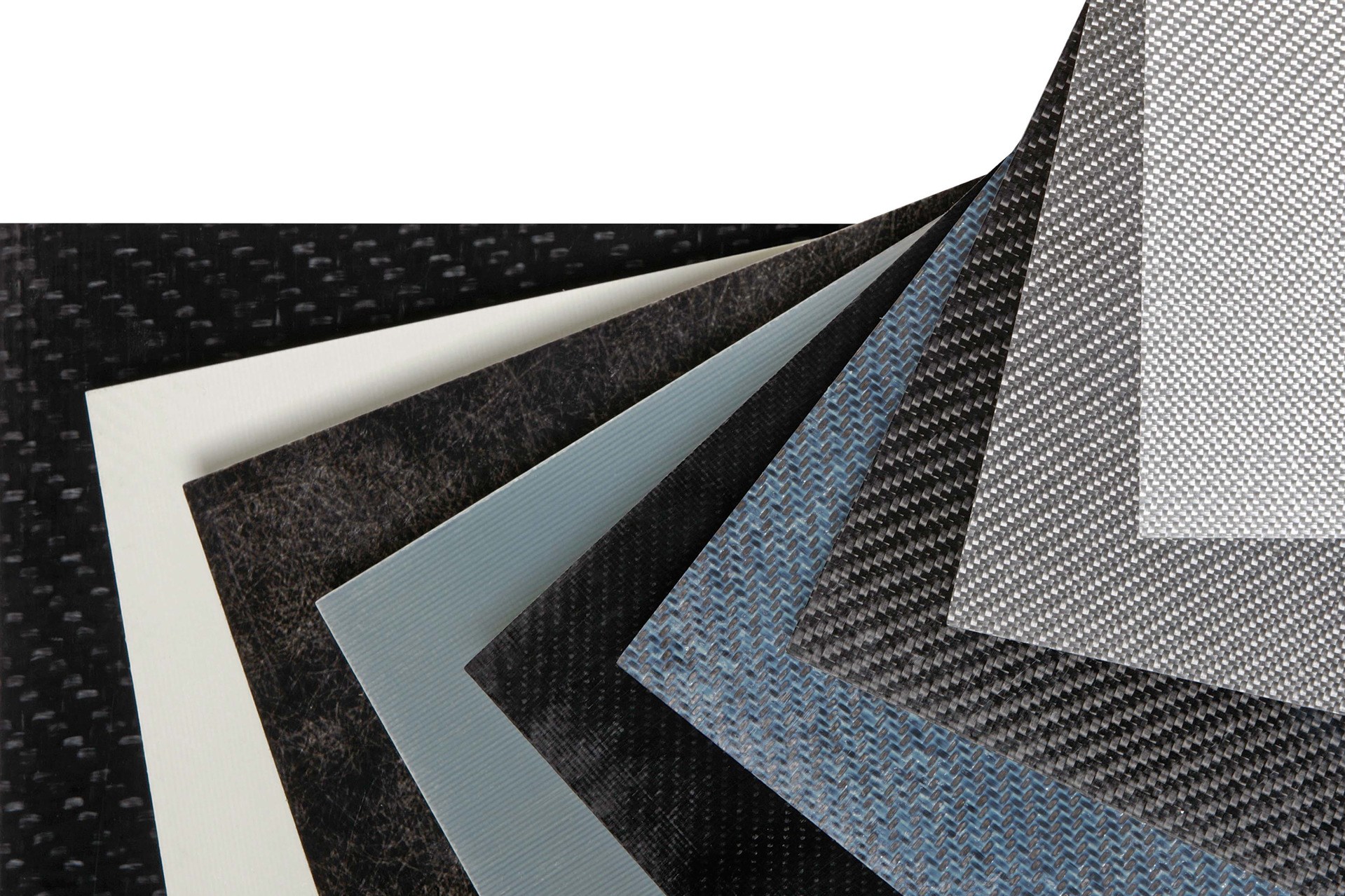 Tepex® materials and solutions
As diverse as the application possibilities may be, Tepex® can be configured in a variety of ways.

CUSTOMIZED PROPERTIES
Variable fiber orientation and their complete consolidation with a thermoplastic polymer give them high specific strength and stiffness. Components can therefore be designed with Tepex® with very thin walls and therefore particularly light.
We adapt the properties of Tepex® precisely to the requirements of the customer and his component. To this end, we develop customized semi-finished products from a variety of fiber materials and arrangements as well as different plastics - such as polyamides, polypropylene, polycarbonate, but also special plastics such as thermoplastic polyurethanes. The results are superior solutions for almost every application and industry.
AVAILABLE POLYMERS
Only thermoplastics are used as a matrix material for Tepex®. Their properties are particularly beneficial for processing. Thermoplastic matrices produce very short cycle times, while work hygiene is not critical.
Thermoplastics available for Tepex®:
Polyamide (PA) 6, 6.6 and 12
Polypropylene (PP)
Thermoplastic polyurethane (TPU)
Flame-retardant polycarbonate (PC fr)
A variety of other thermoplastic polymers such as PPS, HDPE, PA11 and PLA are available upon customer request. Likewise, polymers can be equipped e.g. with regard to flame retardancy, colors and stabilizers. We will work with you to develop the right Tepex® sheet material for your application.

REINFORCING FIBERS AND WEAVINGS
As with all other fiber-plastic composites, Tepex® fibers need to absorb the loads on the component. To do this, they need to offer high stiffness and strength and the lowest possible density. Experience shows that most materials exhibit much better mechanical properties as fibers than in compact form. Glass and carbon owe their excellent credentials as reinforcing fibers.
Types of reinforcement available for Tepex®:
C: carbon fabric
RG: roving glass fabric
FG: filament glass fabric
CUD: carbon fabric uni-directional
RGUD: roving glass fabric uni-directional
RGUDm: roving glass fabric uni-directional, suitable for multiaxial structures
RGR: Random glass matt (non-woven)
We can offer other fiber or fabric types upon request.
VARIOUS PROCESSING OPTIONS
Semi-finished products from the Tepex® product family can be processed using a wide variety of methods, including thermoforming, extrusion or hybrid molding. Complex components are created in just one process step.
The main advantages of hybrid processes are considerably shorter cycle times, a high degree of design freedom and efficient use of materials. In addition, there is no need to form semi-finished products in a separate tool or to rework the components. This increases efficiency and productivity.
Tepex® has been developed for series production and enables reliably high and consistent component quality with short cycle times.