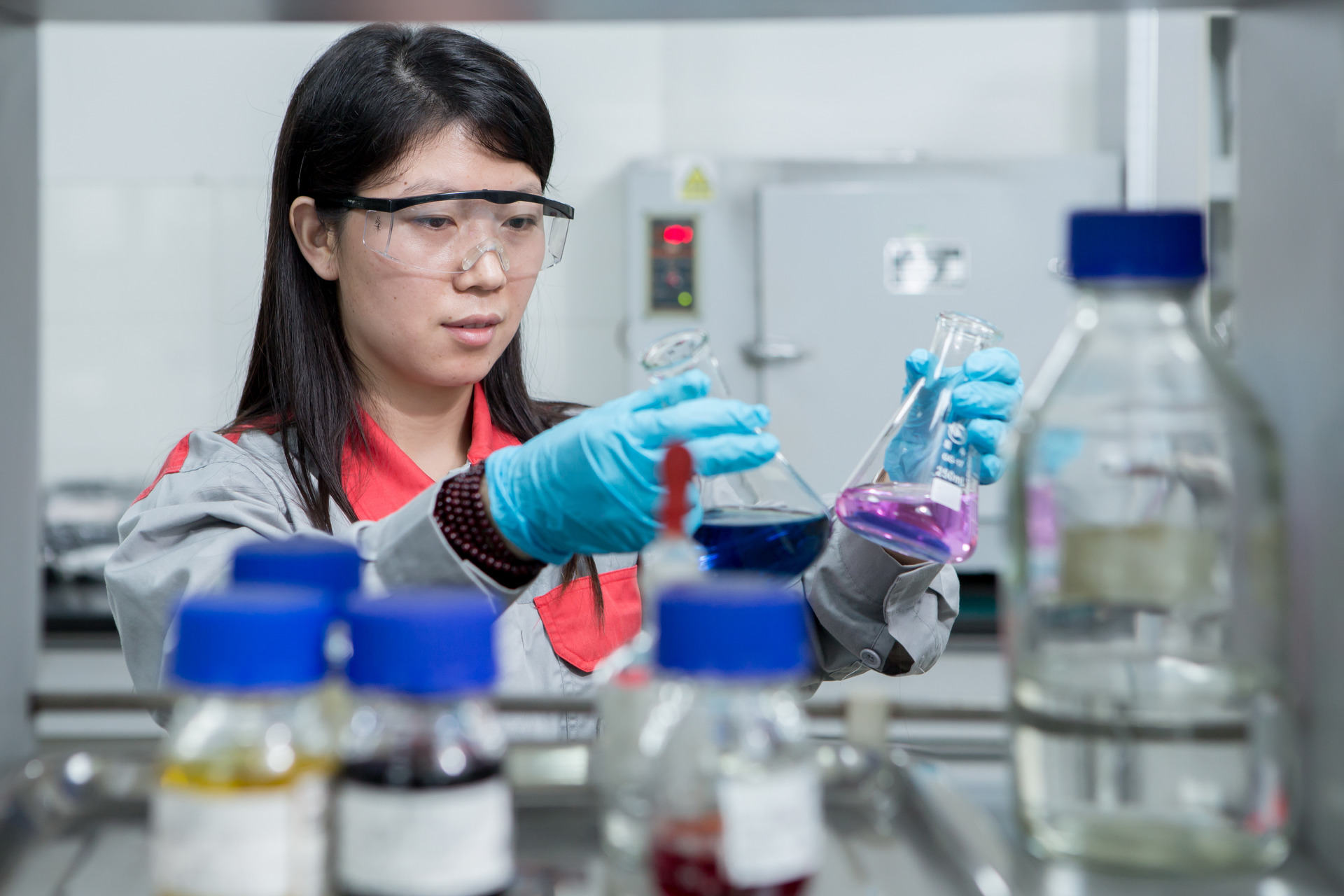 Business Driven Innovation
By developing innovative new processes and products, LANXESS is enhancing the company's market competitiveness, while helping our customers make their businesses more sustainable. This also allows us to promote product- and application-oriented innovations, often in close cooperation with our customers and suppliers.
In addition to our own research and development activities, we invested a single-digit million euro amount in High-Tech Gründerfonds (HTGF) III. This started on May 31, 2017 with a volume of 245 million euros in the first closing.
Like its two predecessors, the newly launched fund aims to support promising start-ups in the technology sector in order to bring inventions to market maturity. The fund has a broad thematic base: Robotics, Internet of Things (IoT), energy, medical and biotechnology, as well as chemistry and software. With our renewed participation, we will reconnect with the high-tech German start-up scene. This involvement will help us gain access to new technologies and identify potential partners for cooperation.
Together with the Berlin-based chemicals start-up DexLeChem, for example, we support the "Data Analytics for Chemical Engineers and Chemists" course, which is being offered by the Institute for Chemistry and the Chemical Invention Factory at TU Berlin for the first time in the 2019/2020 winter semester. We are thus promoting the education of skilled professionals who can provide both the chemical and the digital expertise required to exploit all the possibilities of digitalization.
In 2020 LANXESS has been awarded the "Innovative through Research" seal of approval by the Stifterverband für die Deutsche Wissenschaft (German Science Foundation). Since 2014, the Stifterverband has been awarding the "Innovative through Research" seal of approval to companies that conduct research in recognition of the special responsibility they assume for the state and society.
In the area of research and development, we are systematically focusing on making LANXESS products and processes as sustainable as possible - and thus securing the foundation of our long-term economic success.
For us, innovation also means developing new uses for existing products. Our partner Standard Lithium Ltd. has now completed a pilot facility for the extraction and processing of lithium salt at our site in El Dorado. Lithium salt is required on a large scale for lithium-ion batteries and is therefore a crucial raw material for the desired expansion of electric mobility. LANXESS operates three plants manufacturing bromine products in El Dorado. The bromine is obtained from the brine extracted at the site, which also contains lithium. Our partner Standard Lithium provides the technology for extracting the lithium.
Meanwhile, we are breaking new ground when it comes to the development of customer-specific high-performance plastics. By deploying artificial intelligence (AI), we are looking to drastically cut the amount of time it takes to develop new materials. To this end, we are collaborating with Citrine Informatics, a U.S. AI company specializing in the software-supported development of chemical products. In a pilot project, we are exploring the options for using AI to optimize glass fibers and thus further enhance the properties of our high-performance plastics. It is anticipated that AI will cut development times for the necessary formulations by more than half. Our customers would therefore receive even better, tailor-made products within shorter time frames.
Another AI project with Citrine Informatics is devoted to expanding the range of prepolymer products. LANXESS data specialists and process experts have used the Citrine platform to expand the existing formulation database. This involved an algorithm designed for chemicals accessing existing empirical measurement data, linking them to the knowledge of the process experts and calculating additional figures. This meant that only a few real-life measurements were required to verify the figures already determined with AI. The next step is for our data and process experts to check how reliably optimum formulations can be predicted with the aid of AI so that customer-specific requirements for product characteristics can be met.
We pay particular attention to the development of products that have a tangible benefit for sustainability. For example, our Inorganic Pigments business unit has developed a black pigment that reflects 20% more of the sun's near-infrared radiation (NIR) than conventional products. Plastic roofs and facade elements colored with Bayferrox 303 T heat up much less due to solar radiation meaning that the building's inside temperature can be reduced. This not only improves the indoor climate but also reduces energy consumption for air conditioning.
At our Belgian site in Lillo, we are developing a new type of catalytic waste gas purification for the reduction of nitrogen oxides and nitrous oxide in the exhaust air generated in connection with the production of caprolactam. The measure is to make an important contribution on our journey to climate neutrality in 2040.