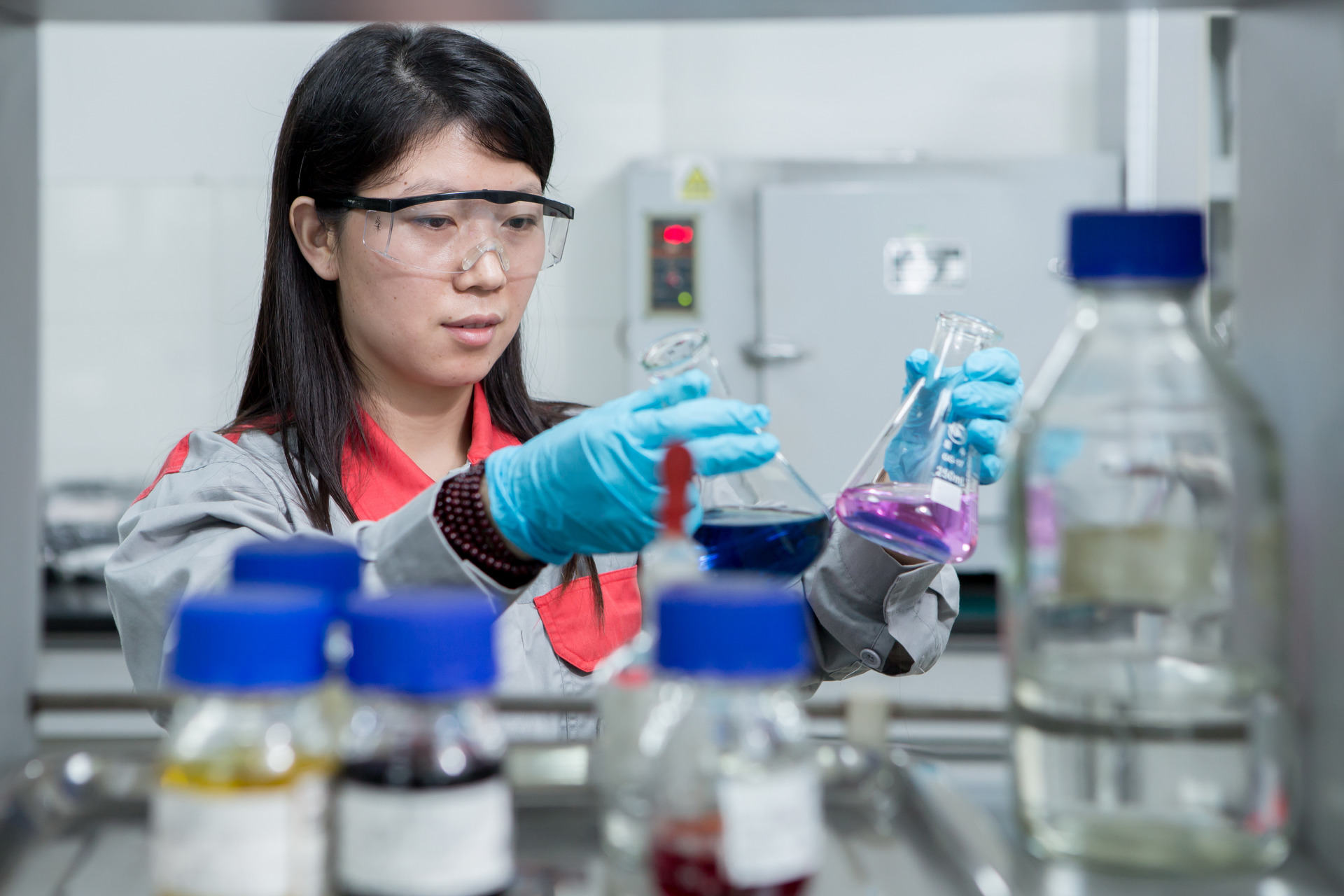 Business Driven Innovation
With process-, product-, application- and business model-oriented innovation, we not only make LANXESS more competitive but also help our customers run their businesses successfully and sustainably. We put the needs and expectations of our customers at the center of product and application development and frequently pursue projects together with the customer concerned or other high-powered partners. In addition, our developments are driven by our sustainability targets, such as the goal of being climate neutral by 2040. Our work is also shaped by the macroeconomic efforts to promote the shift to a circular economy.
In addition to our own research and development activities, we invested a single-digit million euro amount in High-Tech Gründerfonds (HTGF) III. This started on May 31, 2017 with a volume of 245 million euros in the first closing.
With regard to artificial intelligence, the optimization of the development of customer-specific high performance plastics through artificial intelligence bore its first fruits. The High Performance Materials business unit was one of LANXESS' first business units to use artificial intelligence to optimize glass fibers. We can thus develop even better, tailor-made products for our customers within shorter time frames. After around one and a half years of development work in cooperation with Citrine Informatics, a U.S. company specializing in the software-supported development of chemical products, we can begin series production with significantly improved glass fiber. This project is an important contribution to the future viability of LANXESS.

We are also making our plants and processes increasingly digital. A little over two-thirds of all plants are now equipped with new data analysis software. Our experts use the data thus gathered to identify patterns and trends and to detect production irregularities.

Based on this expanded data, we have already achieved the first successes in process innovation. Together with our engineers, our phosphorous chemicals plant in Leverkusen has successfully optimized the process for manufacturing phosphorous chemicals so that a reduction in steam not only lowered operating costs but also reduced CO2 emissions by nearly 4,000 tons a year.

We pay particular attention to the development of products that have a tangible benefit for sustainability. For Aktiplast PP-veg, the processing promoter for natural rubber compounds used in the production of tires and technical rubber articles, we have switched to renewable raw materials. The substance is manufactured only from vegetable oils, so the proportion of renewable raw materials in Aktiplast PP-veg is now around 90%. The switch benefits us and our customers: LANXESS can reduce is carbon footprint, while customers can reduce their energy consumption, as the natural rubber compounds are easier to process.

Another product based on renewable raw materials is the new Adiprene Green product line. The urethane prepolymers are suitable replacements for fossil-based polyether prepolymers. They enable PU componentswith a reduced carbon footprint and also offer the advantage of easy handling and processing. Products from the Adiprene Green line are particularly well-suited for sophisticated applications such as wheels, rollers and roll covers.

LANXESS continues to pursue the goal of adapting its processes for a circular economy. Accordingly, we are making increased use of recycled raw materials in the production of thermoplastic compounds and composites. Current examples of products being manufactured in line with this strategy are three Durethans containing 30%, 35% and 60% recycled fibers by weight. The glass comes from waste left over from glass fiber production. A feature of these products is that they have the same properties as conventional material. The customer can process the sustainable and certified Durethan compounds with recycled fibers like conventional materials in existing plants. The compounds are mainly used in the automotive industry.

In the Polymer Additives business unit, sustainability is the central issue in several projects. One of these is the "PolyStyrene Loop" project, in which LANXESS is working with partners to develop an innovative recycling concept. The aim was to separate HBCD – a material that used to be used for thermal insulation and fire protection in buildings and is now considered a pollutant – from construction waste. For the first time, polystyrene foam contaminated with HBCD can be processed in a new plant. The pilot plant with a capacity of 3,000 tons – based on a process developed by the Fraunhofer Institute – is currently being built in Terneuzen, the Netherlands, and is scheduled to commence operations in the second half of 2021. In 2020, LANXESS received the "Blue Tulip Award" for this project. In eight future-oriented categories, the award honors innovative concepts and successful cooperations that protect ecosystems.

For us, innovation also means developing new uses for existing products. The pilot plant constructed with our partner Standard Lithium Ltd. in El Dorado for the extraction and processing of lithium salt is being run in test mode, and the first product tests look promosing. Lithium salt is required on a large scale for lithium-ion batteries and is therefore a crucial raw material for the desired expansion of electric mobility. LANXESS operates three plants manufacturing bromine products in El Dorado. The bromine is obtained from the brine extracted at the site, which also contains lithium. Our partner Standard Lithium provides the technology for extracting the lithium.