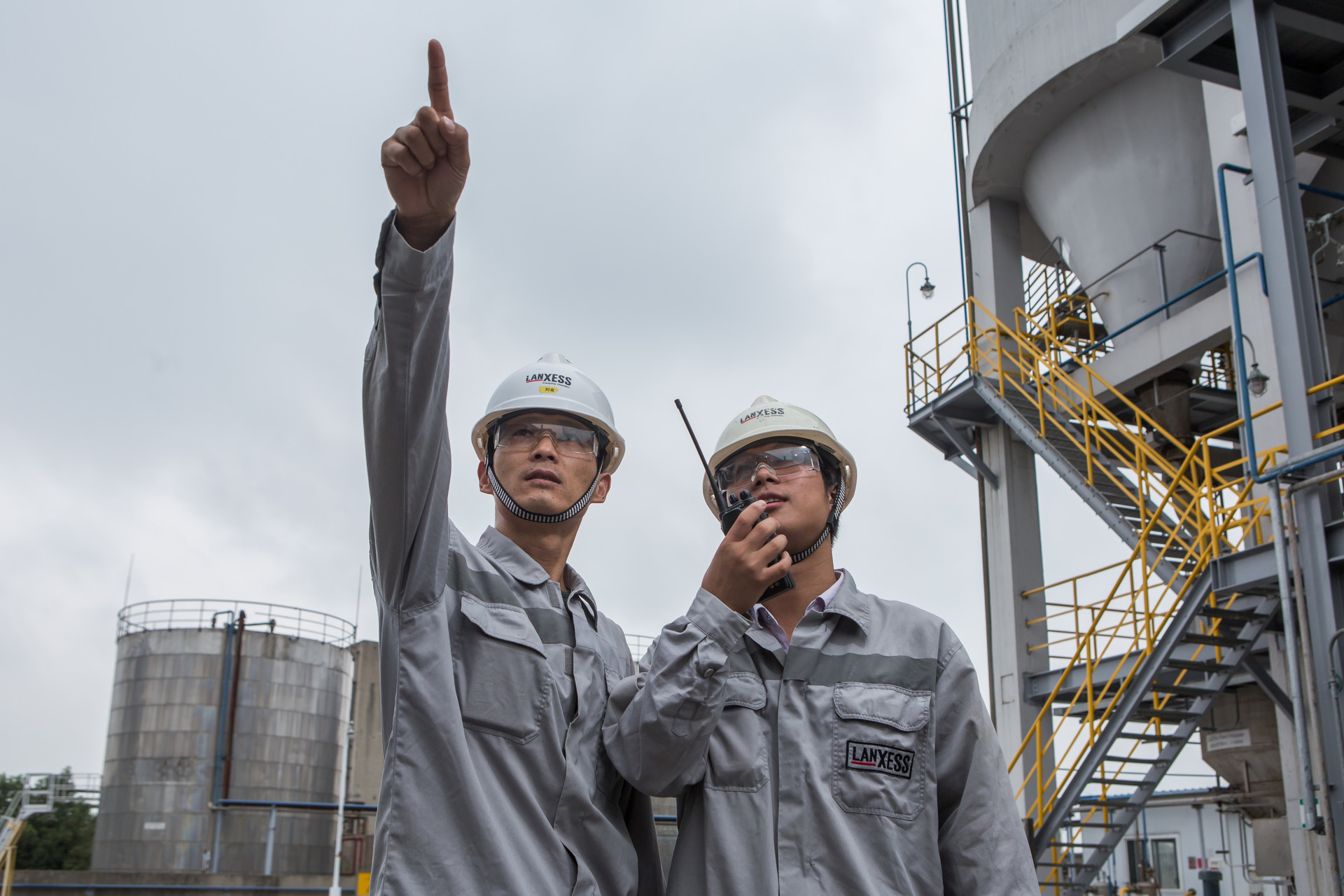 Energized employees and performing teams
LANXESS aims to be a company whose success is driven by the personal commitment of each employee - aligning with our corporate slogan "Energizing Chemistry." We have incorporated our values into the "Formula X" which consists of the following six principles of action seek solutions, keep it simple, take ownership, act as a team, think new and act fast. Following Formula X enables each of our employees to instill these practices in their daily work.
Strategic recruiting remains an anchor of our human resources strategy and is critical to success and growth of LANXESS. With strong competition for talent across our core markets, and the continuing noticeable demographic challenges, we are investing in a distinctive employer brand in order to highlight the advantages of LANXESS as an employer and attract talent across a wide range of functions.
In 2018, we worked intensively to set up a new globally uniform recruiting system to identify clear target groups, while using new recruiting channels, like social media, to identify talents and attract new employees.
Our international trainee program is a key instrument for securing new employees in Germany. This program prepares particularly qualified Master's graduates for demanding specialist and management tasks, and provides experience abroad during a special trainee program.
Professionally developing our own people has always been a high priority for us - both to secure the future of the company and as part of our social responsibility efforts. Vocational training is the foundation of our strategy to develop our own for our German sites.
In Leverkusen, we have developed a centrally-based Career Management division to support scientific, technical and commercial trainees, as well as our apprentices .
By continually investing in the training and further education of our employees, and by communicating clear, globally-binding values and standards, LANXESS can successfully recognize opportunities offered by changing markets.
LANXESS provides employees with a wide range of management and personnel development tools enabling and motivating them to act on the basis of values, rethink issues, develop solutions as part of a team, and implement them quickly. . With the global rollout of leadership training courses completed in 2017, we have achieved our goal of establishing our leadership principles and putting them into practice throughout the Group.
Committed employees are critical to strong company performance, successful change and sustainable corporate success. Accordingly, in the future we intend to emphasize strong employee commitment through leadership skills, performance management and our desired corporate culture.
The implementation of our performance culture, with which we can establish a corporate culture based on shared values through a variety of measures, is an opportunity to demonstrate that success and performance can be achieved while acting responsibly and ethically.
We are convinced that this leads to increased employee motivation and optimized performance. Our goal is to increase employee satisfaction and loyalty to LANXESS.
As part of our strategy, we regularly ask our employees for feedback: Targeted surveys allow us to draw conclusions about satisfaction and commitment and adapt accordingly.
We see diversity as a strategic advantage. Therefore, we strive to further diversify our workforce at LANXESS for the benefit of our company and our employees. A respectful organizational culture that is open to all people - regardless of age, gender, nationality, disability or ideology - helps us to become more innovative and efficient and to attract and retain promising talent.
Recognizing and appreciating diversity is firmly anchored in our values, action and leadership principles. Below, you can see the LANXESS "Diversity Dashboard," which shows detailed analyses of the three key diversity dimensions: age, gender and nationality within our workforce. This enables us to monitor developments at the regional, national or global levels and to devise strategic measures accordingly.
Two economically important regions for LANXESS are particularly hard hit by the problem of an aging society: Europe - especially Germany and Belgium - and the United States. This creates an increasingly fierce competition for qualified junior staff in these and other regions, particularly in scientific and technical careers.
To meet this challenge, LANXESS has developed XCare, an extensive demographics program designed to provide solutions to the challenges posed by a rising average age of our employees and a simultaneous shortage of young talent. Initially implemented in our German companies, XCare is now utilized at our sites globally to measure five areas of action:
People and Health

Work and qualification

Time and Organization

Work and family life

Saving and provisioning
LANXESS health management
Our company health management is structured around raising our employees' awareness for their health and motivating them to assume healthy behaviors in their daily lives. In 2018, as part of our company health management system, we offered a preventive check-up at all our German sites to prevent cardiovascular diseases -- more than 1,300 people took advantage of this offer.
Our employees in Germany also received 200 euros in credit for booking a wide range of health services on the "Machtfit" digital platform. LANXESS covers 80%of the costs of each course booking until the budget is exhausted. Around 43%of our German LANXESS employees have already registered and as of the reporting date, 8,982 health units had been booked, with massage, yoga and fitness activities being the most popular.
Where preventive health management measures are no longer effective, our company integration management ensures that employees with long-term illnesses in particular can resume work after recovery. For several years now, we have been successfully using the company integration management system at all our German sites. We also offer our global employees a wide range of support to promote their health and well-being, such as preventive health check-ups and stress management training, as well as options for fitness, wellness and nutrition. With the Group-wide implementation of XCare, we are beginning to apply our health concept globally under the motto "Xhealth".
Healthy working environment
Offering our employees a safe and healthy working environment is a high priority at LANXESS.
Effectively managing health and safety at work in all areas requires the implementation of specific and effective protective measures. Our health and safety management system focuses on the general and specific prevention of incidents, the prevention of occupational diseases and compliance with legal requirements.
LANXESS applies guidelines to sites globally describing the minimum health and occupational safety requirements necessary to achieve the above goals for all employees in all business units. These requirements also apply to visitors, contractors and other persons staying in LANXESS facilities and buildings.
Management is generally responsible for health and safety management in its plants and sites. Effective health and safety management is based on the identification of potential risks through hazard assessments, adequate training and instruction in accordance with the results of hazard assessments, as well as the implementation of regular checks to ensure the effectiveness of these measures.
Hazard assessments are critical to manage risk and achieve effective health and safety standards.
Areas of hazard assessments include:
Ergonomic hazards including fall protection, work in confined spaces, handling of equipment/tools and heavy loads, control plans.

Mechanical hazards, such as moving machine parts.

Electrical hazards.

Hazards arising from substances, including biological hazards.

Risk of fire or explosion.

Hazards resulting from special physical agents like:
-- Noise;
-- ultrasound;
-- vibrations;
-- Electromagnetic fields;
-- Ionizing radiation; and
-- Hot or cold mediums
Potential hazards associated with work:
-- Coordination of the work;
-- Use of outside contractors;
-- Hazardous conditions; and
-- First aid systems, emergency response plans, escape and rescue plans
Health initiatives
We promote exercise and fitness with a variety of measures throughout the Group: for example, in Germany, Belgium and the United States, LANXESS teams participate in local sporting events, and in Singapore, South Africa and the United States we reimburse some costs of fitness facilities. Since nutrition is critical to well-being and performance, we ensure our employees have access to healthy meals in the on-site restaurants and we work to inform our workforce about balanced nutrition concepts.
In 2018, as part of our Human Resources Transformation project, we began to revise and redesign our existing personnel planning process for global use. Our goal is to simulate the long-term staffing supply, - with consideration of retirement age and natural turnover, and compare it with our long-term personnel requirements, taking into account corporate strategy and technological changes. This enables us to better identify personnel imbalances at an early stage and initiate appropriate HR measures.
For a variety of reasons, including new employee attraction and the retention of current talent, LANXESS uses flexible working time models to provide flexibility for employees. in all phases of their lives. For example, our "Flexi 95" program for managers enables senior management an intelligent way to work part-time. With such a positive response from employees to the pilot project (71 participants since 2017), we continue to incorporate "Flexi part-time" for senior management in the LANXESS program, with plans to launch a pilot program for junior and middle management.
Under the motto "Xwork - Flexible Working," we have also adopted global flexibility principles. In 2019, we will use these to develop country-specific guidelines for flexible working conditions and introduce appropriate models. Corresponding guidelines for Germany were already adopted in the financial year. They have been communicated and implemented since the beginning of 2019.
Balancing a family and a career is becoming increasingly important across the workforce – and we want to support that for LANXESS employees.

In Germany, 7% of our employees between ages 20-40 took parental leave (56% percent of whom were fathers) and 89% of all employees who completed their parental leave in 2018 returned to ajob at LANXESS.
Our Xkids child care center in Leverkusen, which is fully booked, offers space for around 50 children between the ages of six months and six years in two kindergartens and one crèche group. In addition, we offer our employees places in Cologne daycare centers, emergency child care places and access to a nationwide agency for childcare services.
Legal maternity protection, which is general practicein Germany, and similar models in the European Union are not necessarily the standard worldwide. For this reason, we routinely investigate at our locations outside Europe whether we can introduce or expand a country-specific model for our employees. We also emphasize international opportunities to reconcile work and family life, such as financial support for childcare, which we offer in Spain and Brazil. These benefits are appreciated by LANXESS employees and are yet another way to attract new employees, retain qualified personnel and facilitate the return of employees after a family-related absence.
With aging demographics, especially in Germany, caregiving is an important issue for LANXESS and another benefit we offer to employees. This enables our employees to reduce their working hours during the care phase and make up for any shortfall hours when they return to work. In addition, we offer professional consulting and placement services on all aspects of care. In 2018, we offered employees with a series of on-site expert lectures on a variety of topics like living wills, dementia, and organization and financing home care.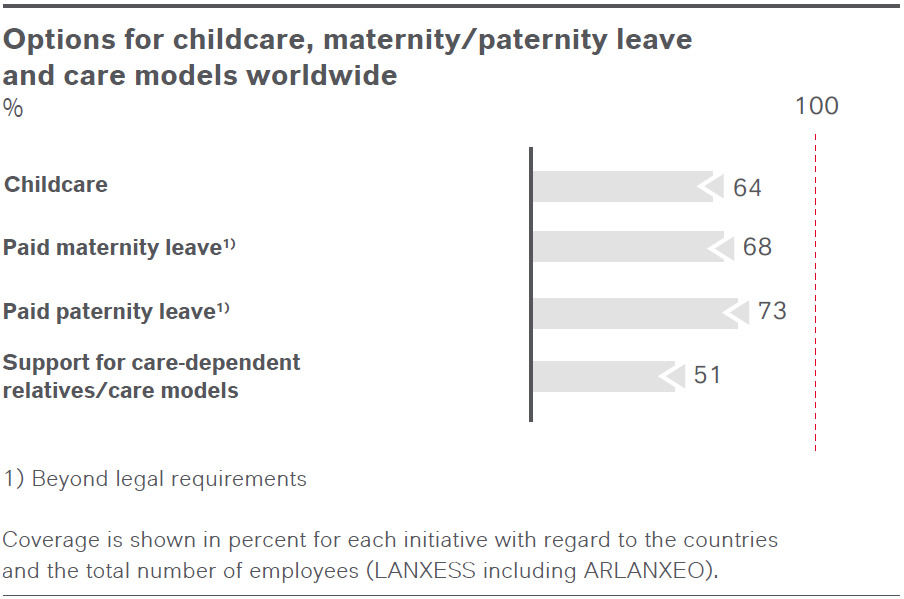 LANXESS offers its employees financial security, even after retirement, through extensive retirement savings plans. In addition to the basic pension, there is also the option of deferred compensation in which employees convert part of their gross income into additional company pension benefits - and LANXESS adds a contribution on top.
We have also created a "long-term account" that allows employees to transition to retirement with flexibility based on their individual needs – because not every employee wants to or can work until the official retirement age. Employers and employees jointly save a credit on the long-term account, which can be used for a work-free period before official retirement begins. LANXESS pays an annual demographic amount into the long-term account, which employees can add to with voluntary
Our global safety initiative Xact aims to gradually raise the safety culture at LANXESS to a higher level. All employees, starting with senior management, work together to improve all aspects of safety throughout the company. We believe that every work-related accident can be avoided, and we have set a goal to reduce our million-hour working rate (MAQ) by more than half by 2025 (compared with 2016 data).
LANXESS utilizes the Recordable Incident Rate (RIR: number of reportable accidents per 200,000 working hours in accordance with OSHA rules) and the million-working-hour rate for lost-time accidents to analyze occupational safety. The 2018 rate for LANXESS was 1.5.
As in previous years, there were no fatal accidents in 2018.
The 2018 RIR for continuing operations at LANXESS was 0.6 – this also includes accidents without lost days according to OSHA (Occupational Safety and Health Administration) regulations. The importance of occupational safety in the company has continued to grow in recent years, and with a heightened focus from all levels of the hierarchy, we strive to continually reduce the number of more serious work-related accidents.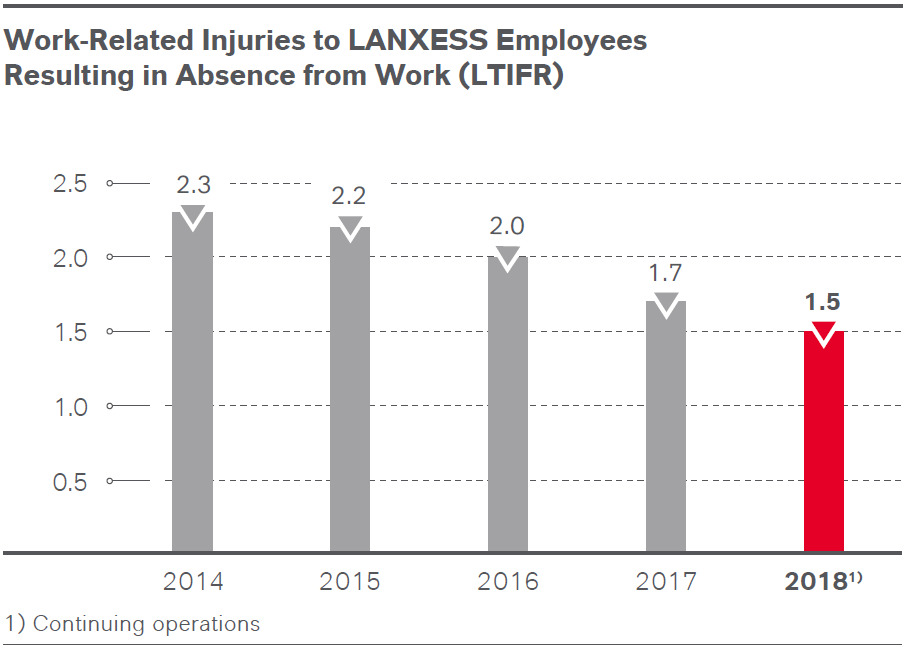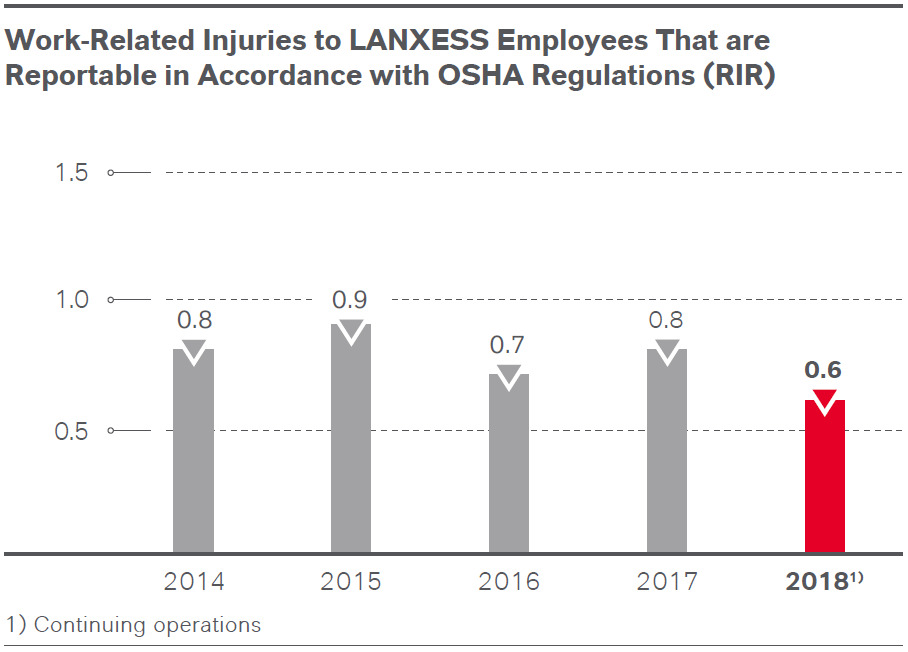 At LANXESS we reward our employees' performance through an attractive and transparent compensation system that includes a basic salary (in line with market conditions), and a bonus payment based on the company's annual earnings. In addition, managers have the opportunity to reward exceptional performance by individual employees promptly and non-bureaucratically. Employees in Germany are also offered a program that allows them to participate in the company's development by purchasing LANXESS shares at a discount.
PARTICIPATION IN JOINT SUCCESS
In addition to financial compensation, LANXESS offers employees with attractive and competitive benefits packages focused on employee health and safety. For example, we support various health services such as medical examinations and prevention courses at our sites around the world. We also have accident insurance policies for our employees in many countries that – free of charge to the employee - would cover the financial consequences in the event of an accident.
With our idea management system, we systematically promote the development and implementation of suggestions for improvement. This gives us continuous impetus to improve profitability, occupational safety and environmental protection at LANXESS. We have implemented a number of constructive ideas submitted by employees in recent years, and look forward to continuing to apply their feedback moving forward.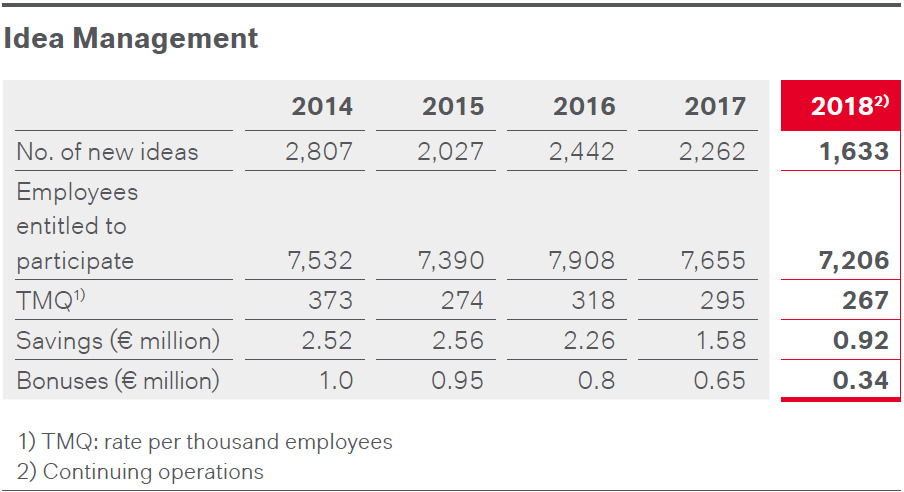 At LANXESS, dialogue with our chemical social partners - trade unions and employers' associations - as a principle of active consulting is common practice at our sites worldwide. This includes understanding and complying with the freedom of association of our employees in accordance with the International Labor Organization (ILO) and the Global Compact, as well as any relevant collective agreements.
We regularly seek discussions with employee representative bodies in Germany, Europe and worldwide, provide information on our corporate goals and involve employee representatives in organizational changes at an early stage. During the complete separation from ARLANXEO in December 2018, LANXESS management and employee representatives jointly devised solutions for a successful spin-off during the reporting period and worked together to implement them in close coordination.
We also work to engage and deal fairly with employee representatives and trade unions outside of Europe. For example, in South Africa, we are guided by the standards of the International Labor Organisation (ILO) with regard to the freedom of association of our employees. These include regular exchanges between local management and trade union representatives, as well as binding collective agreements on remuneration and working conditions.