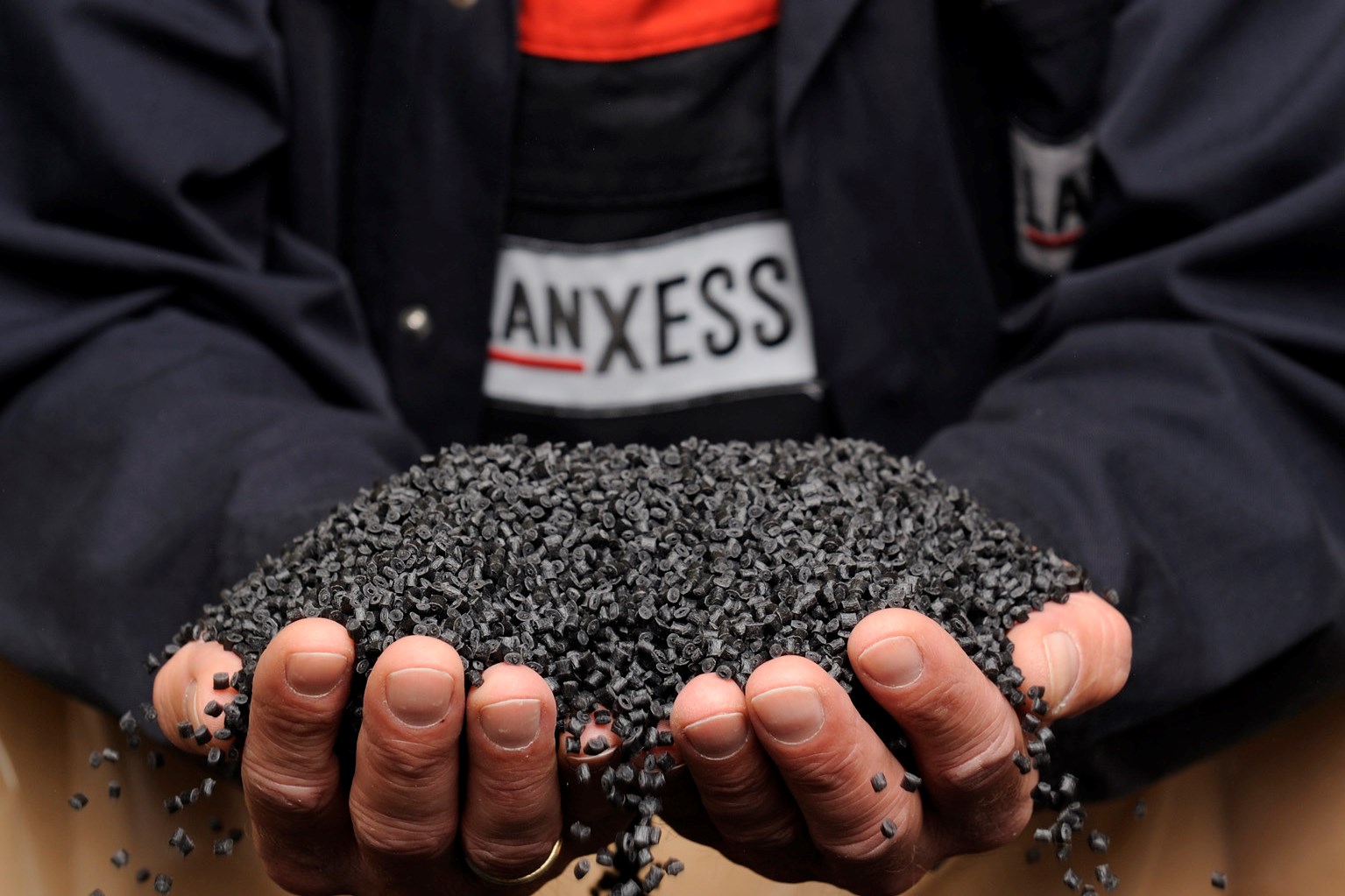 Sustainable Product Portfolio
With our commitment to the Responsible Care® Global Charter, we have committed ourselves to comprehensive product stewardship. The initiative launched by the International Council of Chemical Associations (ICCA) contributed significantly to the development of the Global Product Strategy (GPS). It aims to provide basic information and risk assessments of substances in order to minimize the harmful effects of chemicals on human health and the environment - or to manufacture and market products in such a way that damage to people and the environment is avoided. In line with these commitments, our product stewardship covers the safe handling of chemical substances and products throughout their entire life cycle: from research and development, procurement and production, through storage and transport, to marketing, further processing and disposal.
Our "Product Safety Management Directive at LANXESS" regulates how product responsibility is to be perceived throughout the Group and ensures cooperation between all parties involved. This applies in particular to substances in our product portfolio that are classified as hazardous. The "Central Product Monitoring" guideline systematically controls the worldwide monitoring of our products and their application with regard to possible health and ecological effects. Our product developers and product safety experts incorporate the experience gained into their assessments. Our Development of New or Changed Products, Processes and Applications Directive stipulates that development ideas are systematically examined with specific assessment for potential economic, ecological and social effects. In this way, we ensure that unsustainable products, processes or applications no longer enter our development process.
Particularly in the case of consumer-oriented applications, we attach great importance to ensuring that our products comply with high national and international standards, certificates and quality seals. Examples include use as an additive in food or animal feed, in contact with drinking water and food, or in cosmetics, pharmaceuticals and medical products. For example, we actively support our customers in the approval of drinking water contact materials or the further processing of our products into certified goods for the end consumer. Through the intensive exchange of information with our customers and suppliers, we achieve greater transparency and safety over the entire product life cycle.
Effective sustainable action presupposes that we know the effects of our entrepreneurial activities as precisely as possible - both positive and negative. We have created a strategic management tool with a specially developed evaluation system. This enables us to systematically assess the sustainability performance of our product portfolio in the economic, ecological and social dimensions - and to continuously improve it. The continuously optimized system analyzes the effects and benefits of our products on the basis of criteria that we consider relevant for LANXESS and society as a whole.
"Our products must generate
sustainable benefits for society.
With our product portfolio analysis,
we have established a tool with which we review every year
how we meet this requirement."
Dr. Thomas Pelster,
Global Product Stewardship LANXESS
Compliance with global chemical control regulations is a prerequisite for the marketability and safe handling of our chemicals and products along the entire value chain. LANXESS ensures that binding and voluntary requirements are implemented with the help of an electronic safety data system. Safety data sheets inform our customers worldwide in more than 40 languages about substance data and protective measures that are required when handling the respective chemicals. We regularly adapt our electronic safety data system to the innovations of the Globally Harmonized System of Classification and Labelling of Chemicals (GHS) in the various countries.
The GHS is a system under the umbrella of the United Nations. The aim is to harmonize existing classification and labelling systems from various sectors such as transport, consumer, employee and environmental protection worldwide.
We take into account regional particularities in the implementation of the GHS, such as the CLP Regulation on Classification, Labelling and Packaging of Substances and Mixtures in Europe.
We expressly support the aim of the European chemicals regulation REACH to ensure a high level of protection for human health and the environment.
To date, we have registered all LANXESS-relevant substances in accordance with REACH. In the last 10 years, around 1000, partly very extensive substance dossiers have been submitted to the central European Chemicals Agency (ECHA). For registration, we systematically evaluate all necessary information on our substances and their uses. We consider the entire product life cycle and determine safe conditions of use. LANXESS supports the voluntary action plan of the European chemical association Cefic and has signed a declaration of intent to this effect. This includes a commitment to review all existing REACH registration dossiers and update them according to the latest requirements. These requirements have been frequently changed in recent years.
Comparable chemical control regulations to those in the EU now exist in many other countries, and the number is increasing. Before manufacturing and exporting our products, we therefore check their marketability in accordance with local chemical legislation. We register our substances and products in accordance with local requirements.
We support the substance evaluation programs of the responsible authorities by providing all available information and, if necessary, determining new data. Here we benefit from the experience gained from the REACH process.
The Globally Harmonized System of Classification and Labelling of Chemicals (GHS) , developed by the United Nations, is an international harmonized system for the classification and labelling of chemicals, but with country-specific features. The system not only creates important transparency in the handling of chemicals, it also ensures a high level of safety for people and the environment. LANXESS has classified all chemicals handled in the EU accordance with GHS and transferred them to the Chemicals Inventory at the European Chemicals Agency (ECHA) in Helsinki.
The REACH Regulation is an EU chemicals regulation that covers the registration, evaluation, authorization and restriction of chemicals.
For transparency and more security at all levels
The goal of REACH is to ensure the safe handling of substances for all uses. This requires a continuous exchange of suitable information between all parties involved in the supply chain. The increased exchange of information on substance uses, conditions of use and risk management measures between manufacturers/importers, processors and users under REACH will lead to greater transparency and greater safety along the entire product chain.

Manufacturers and importers assess the risks of all intended uses of their substances and describe the safe conditions of use using exposure scenarios.

Distributors must pass on information in order not to interrupt the information chain.
Users thus receive more information on the safe handling of the substances they purchase in order to check their own conditions of use.
Only a few chemical substances do not need to be registered in REACH, including some natural substances, pharmaceuticals, biocides and pesticides (for which relevant regulations already exist), as well as polymers.


REACH registration for polymers
REACH requirements do not apply to polymers, instead monomer manufacturers must register the polymer building blocks within the program.

If polymers are imported into the EU, the polymer importer must register their monomer components – provided their proportion in the polymer makes up at least 2% of the total and the total imported quantity of the monomer exceeds one ton per year.


Registration of substances with LANXESS
Since the REACH regulation came into effect, LANXESS has submitted approximately 1,000 substance dossiers on time to the European Chemicals Agency (ECHA) in Helsinki in three phases (2010, 2013 and 2018). For registration, all the necessary information on the LANXESS substances was determined, the production process and all identified uses were systematically evaluated and safe use conditions were derived.


Background to the REACH Regulation
Registration within fixed deadlines
REACH requires the registration of substances manufactured in the EU or imported into the EU in quantities of more than one ton per year.

Each company electronically submits information on the substances in the form of technical dossiers and chemical safety reports to the central European Chemicals Agency (ECHA) in Helsinki. They provide the data necessary for assessment and must demonstrate that the substances are safe to handle and pose no risk to the health of processors, consumers or the environment. ECHA issues a registration number for the substance which indicates an accepted dossier . As part of dossier evaluation or substance evaluation, the authorities may request additional information.

The registration of all phase-in substances only represents one part of REACH, which also encompasses registration, evaluation and authorization of chemicals. In the future, new substances will have to be registered before they are manufactured or imported. This already applies from one ton per year and per company. Existing dossiers must be constantly updated.

REACH-like laws with extensive registration requirements for the manufacture and import of all chemicals now also exist in South Korea, Taiwan and Turkey. Other countries are planning to amend their legislation accordingly.