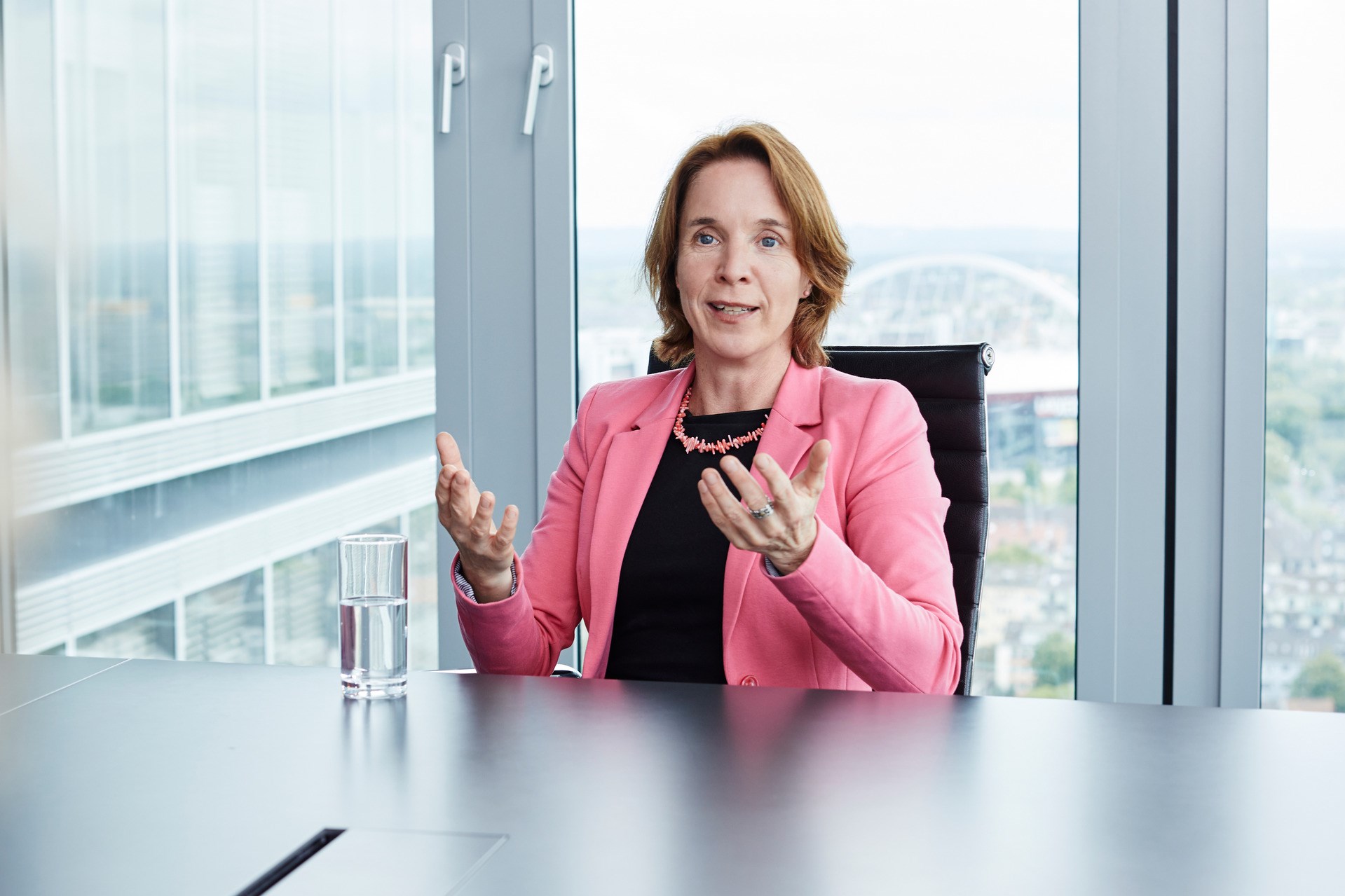 How the corona crisis
changes the way we work
Human Resources (HR) Director Stephanie Coßmann experienced and designed the new working environment at LANXESS under exceptional conditions: There is a lot to learn from the corona crisis, she says.

How has the corona pandemic affected your work at LANXESS?
COVID-19 meant dealing with new conditions in everyday work. We had to act very quickly in many areas. The changeover to twelve-hour shifts at the plants helped to avoid contact among employees, which contributed to health protection. What our colleagues achieved in this respect is enormous. The return to eight-hour shifts is also a challenge in itself. It requires several weeks of preparation. After all, the employees have to reorganize their private lives accordingly. Questions about the compatibility of family and career have also recently become all the more pressing.
What has reality been like for the employees in production and offices?
Together with the Chempark operators, we implemented social distancing regulations for the plants, measured fever at the gates and reorganized shift handovers. Twelve-hour shifts meant major physical changes and extreme stress. I am very grateful that my colleagues have supported us so well. The employees who switched to home office on short notice and had to deal with major challenges due to a lack of childcare facilities also showed great commitment. They mastered the situation flexibly all over the world.


What were the biggest challenges for home office employees?
In many regions of the globe, several members of a household often had to work from home at the same time in close and cramped quarters. Fortunately, the technical challenges were solved by IT quickly. However, it was also a great challenge to keep in touch within the team. The informal exchange of information in the corridor or at the coffee machine was not possible. Many ideas came from the employees themselves, such as a virtual tea time or an online lunch.


Is the Xwork program a good basis for more mobile working?
Mobile working necessitates trust and good communication. As managers, we must encourage and require this. Awareness of this has improved significantly as a result of the crisis. With Xwork, LANXESS has been offering flexibility in working hours and location for years. New forms of work have now proven to be central to keeping processes ongoing under exceptional conditions. How well we are all responding to this crisis also shows that our culture of success, which we have worked hard on, is bearing fruit.
"The questions surrounding our working methods need quick and thoughtful answers – now more than ever."
Stephanie Coßmann
Board of Management and Labor Director at LANXESS AG
What opportunities does the Corona crisis offer?
Many things that seemed unthinkable before are suddenly happening very quickly. There are many examples of this in companies and society. We are currently learning a number of things that we should retain and systematize after the crisis is over. Our employees have shown a lot of creativity. We are currently evaluating what we want to take with us from the crisis mode into the "new now".

What will be the initial steps into the "new normal"?
We must be prepared for the virus to keep us on our toes for a long time yet and we must find ways to remain productive in the long term while guaranteeing health protection. This means that we establish protection, hygiene and distancing concepts in the office and coordinate how we can continue with the positive experience we have gained from the forced live test of working from home to the home office in the future. It is clear that we have to find special rules when children have to be looked after or when someone is at increased risk.
"Many things that seemed unthinkable before are suddenly happening very fast. We are evaluating what we want to keep from this crisis and adopt into the "new now"."
Stephanie Coßmann
Board of Management and Labor Director at LANXESS AG
Xwork: LANXESS enables flexibility for individual needs
In order to remain attractive as an employer, we set ourselves ambitious goals. Under the Xwork program, our sites worldwide are developing rules and models for mobile and flexible working. By 2022, such regulations are to be in place in 95 percent of countries. These four Xwork principles apply to managers and employees:
LANXESS promotes flexible working models. To achieve this, we want a cultural change toward even more trust, reliability and communication.
Managers bear a special responsibility for success. As role models, they too should use flexible working models.
LANXESS supports mobile working. Teams agree on attendance times in a trusting and fair manner.
Flexi-models are continuously under development. Transparent communication should ensure that they are available to be used by all employees.
This means, for example:
Career and advancement opportunities should be independent of the working hours model.
Part-time work is available at LANXESS (in Germany) for all employees, including those working shifts and in management positions.
Flexible working models must be attractively designed and adapted to employees' phases of life, for example our "FLEXI part-time" offer.
explore our company and products