Chlor-alkali brine purification at Coogee Chemicals
Efficient waste reduction and chlor-alkali ion exchange membrane protection – Overachieving performance and discharge cost savings by Lewatit® MDS TP 208
Coogee Chemicals is one of Australia's largest chlor-alkali producers with three production facilities across Australia, all operating successfully on Lewatit® ion exchange resins. One of the sites expanded its operation with a new state-of-the-art cell room for a significant capacity increase to meet the demands on products, such as caustic soda, sodium hypochlorite, and hydrochloric acid serving the chemical, industrial, and swimming pool industry.
The greenfield Lytton expansion plant was designed to meet tighter requirements on waste reduction, finally resulting in waste and discharge cost savings. This achievement is based on the application of the new-generation resin Lewatit® MDS TP 208, protecting the sensitive electrolysis membranes by removing high impurity levels of hardness and barium. Since plant start-up in July 2016, all brine purity specifications supplied by the membrane manufacturer are being reliably met and even outperformed, thus extending its efficiency even further.
Lewatit® ion exchange resin performance
In order to meet tighter governmental waste management standards, Coogee equipped its new Kemerton plant with three Lewatit® MDS TP 208 ion exchange filters installed in a merry-go-round setup for brine polishing. On the one hand, these filters allow a high brine purity level (figure 1), and on the other hand, reduce waste generation by a total of 4,200 m³ per year, and ease up operation by a longer regeneration frequency (tripled cycle time compared to previous operation) and thereby reduce chemical usage.
Hardness, barium, and strontium levels are reduced from an incoming level of 2.5 mg/l (Ca2+, Mg2+), 0.3 mg/l (Ba2+), and 0.5 mg/l (Sr2+) to below <10 μg/l (Ca2+, Mg2+; figure 1, red and pink BTC*), <10 μg/l (Ba2+, black BTC*), and <40 μl (Sr2+, grey BTC*). Lewatit® MDS TP 208 even provides superior reduction of brine impurities required for their membranes on supplier demand of initially <300 μg, now decreased to below <100 μg for barium and strontium.

Furthermore, over a period of more than five years the pressure drop across the resin beds has remained the same over the entire cycle (0.4 bar) and only changes with the flow rate. All resin filters are equipped with 100 polypropylene nozzles per square meter with a slot size of 0.2 mm including EPDM (ethylene propylene diene monomer) gaskets.
Figure 1: Average impurity level after secondary brine purification with Lewatit® MDS TP 208 over a period of five years. Primary (pink) and tertiary (red) hardness and tertiary barium (black) and strontium (gray) effluent concentration.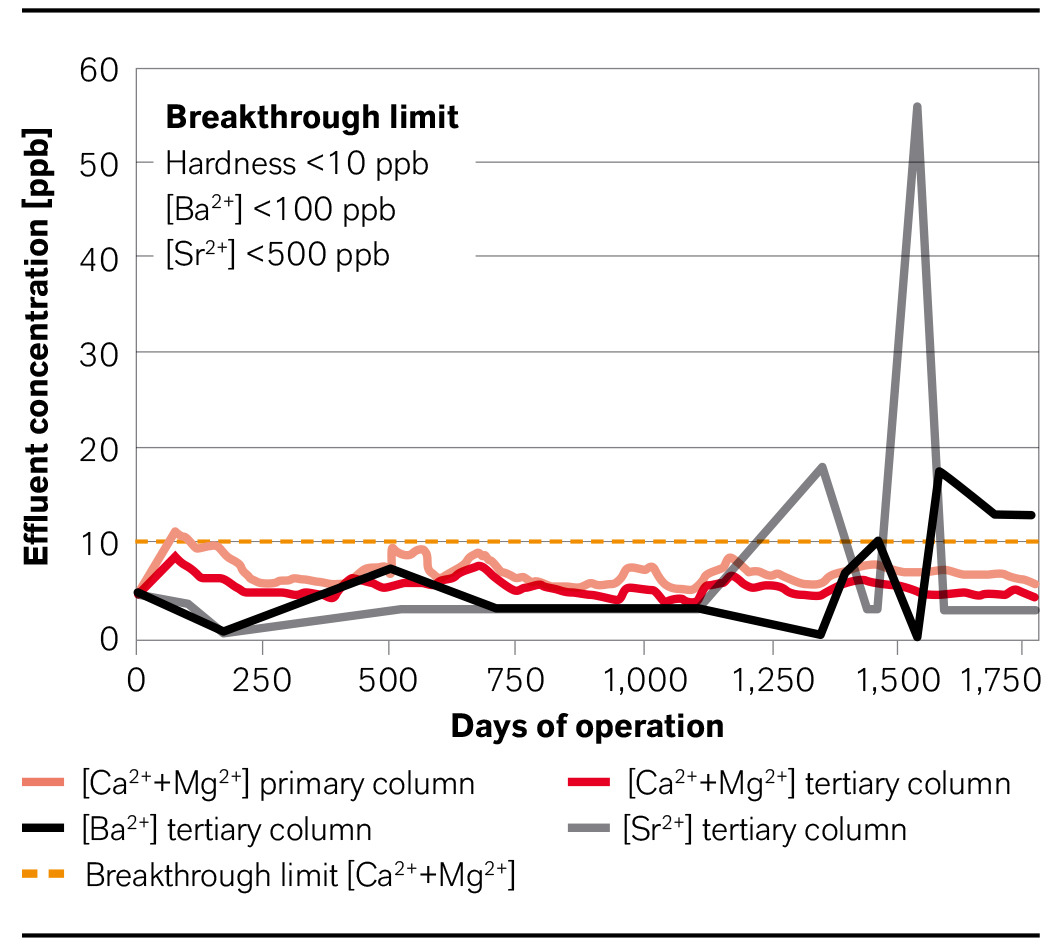 Download relevant product literature now
Conclusion
Lewatit® MDS TP 208 opens up a new path to more sustainable and simplified brine purification, being highly efficient and reliable in terms of meeting more strict purity specifications. It allows cost savings via lower waste generation due to prolonged cycle times and high regeneration efficiency, and in this way facilitates the operation of the plant.
Coogee's plant with its first resin fill has been successfully operating for more than five years, and is continuting to perform well till date. Since the resin filters are designed for a larger brine capacity, the plants capacity is not yet being fully exploited, leaving the option to handle greater demand in the future.
In case of any questions or concerns, feel free to contact us.