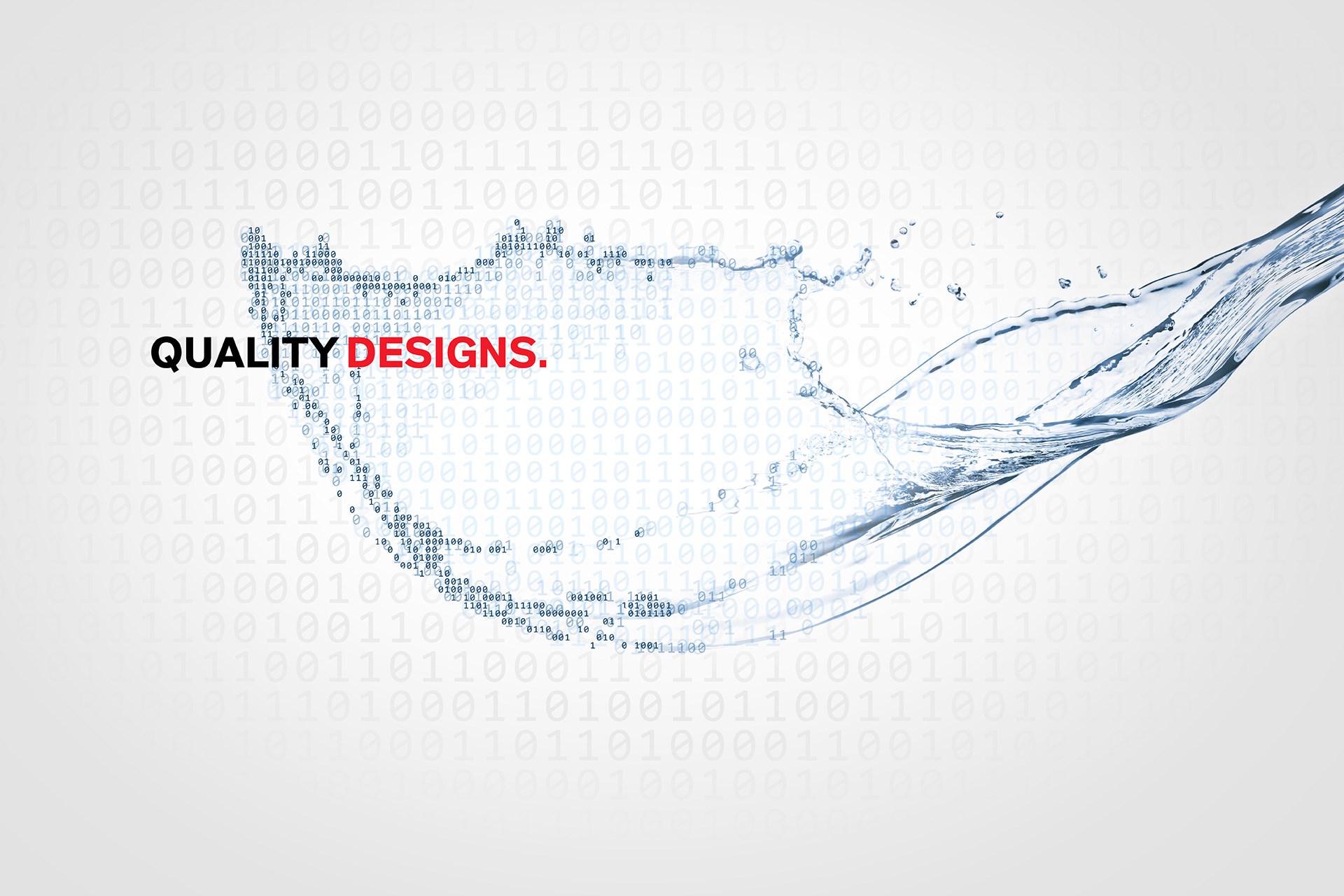 LewaPlus® Calculation and Design Software
LewaPlus® allows for planning of ion exchange (IX), reverse osmosis (RO), and ultrafiltration (UF) systems under a variety of system configurations, including some unique process configurations only available with Lewatit® product technology.

The design software is unique in the water treatment industry, since it offers not only the possibility to treat one stream after the other (one dimensional) but to design complex treatment systems (two dimensional) with different technologies.

Not cloud-based, which makes the software also available offline and guarantees data security
Installation does not require Windows administrative rights
A single water analysis data entry screen, with RO scaling calculations, suitable for both IX and RO applications
Clear interface and reliable and quick results of the calculation
Design flexibility: Parameters can be widely modified and values outside the recommended borders are highlighted
Comprehensive output of IX and RO system design parameters and effluent (permeate) quality in an easy to manipulate printed output
Product scout and cross-reference tool to allow a proper selection of the right resin or membrane type
Direct access to technical documentation: Complete set of technical data sheets and material safety data sheets (only IX) for all Lewatit® products
Regular updates to ensure keeping the software up to date and further improving its functionality with new features
Data exchange to technical LANXESS experts for optimization and final check of your calculation
Design water treatment systems just by placing the selected technologies in the requested position via drag and drop
Available in eleven languages
Software is not available for mobile devices
Various processes that cover most of the usual water treatment applications are included to calculate the design and performance of an ion exchange (IX) plant. It helps to simulate the influence on performance and quality using different parameters like salinity and ionic composition of the water, temperature, organic load, throughput, and type of resin.

Available IX processes are:
Demineralization
Mixed bed demineralization
Softening and dealkalization
Calculation of current operating Ion Exchange performance (demi check)
Condensate polishing
The reverse osmosis (RO) module calculates the design and performance of an RO plant for brackish water and seawater applications. It helps to simulate the influence on performance and quality using different parameters like temperature, salinity, and salt passage.


Immediate calculation of system performance, including feed pressure calculations and permeate quality on a single screen in the RO module
Advanced RO system configuration options with automatic calculation of a recommended array for optimization of system sizing
Support for hybrid pressure vessel configurations to achieve reduced feed pressure or to equalize permeate flux distribution along the membrane unit
Support for split-partial 2-pass designs and various concentrate recirculation options
RO normalization tool for data comparison under standard conditions
Power consumption module to calculate system power costs for a variety of ERD configurations
Post treatment module for pH adjustment, chemical addition (re-mineralization) and degasification of the final product water
Adjustable capital and operating cost module using historical industry data as default values. The model follows RO industry conventions for assignment of water costs in project bid situations
In addition to the plant design, the ultrafiltration (UF) module offers information about the backwash and maintenance cleaning, including the consumption of chemicals.

Available ultrafiltration processes are:
RO pretreatment
Brackish water treatment
About LewaPlus®
How much does LewaPlus® cost?
LewaPlus® can be downloaded and used free of charge. However, you have to register for a license.
Are upgrades free?
Yes. From time to time LANXESS makes available bug fixes and enhancements for LewaPlus®. These can be installed using the LewaPlus® update facility that is part of the LewaPlus® application.
Does LewaPlus® support other languages than English?
Yes, LewaPlus® has built-in support for internationalization. The following languages are supported: English, German, French, Spanish, Russian, Turkish, Chinese, Italian, Portuguese (Portugal), Portuguese (Brazil), and Japanese.
Not all languages officially supported by LewaPlus® are selectable in the preferences of LewaPlus®. Why?
Only those languages are selectable, that are supported by the Windows operating system, too. Windows support is not installed for all languages by default. Only after Windows support has been installed for the requested language is it also selectable in the preferences of LewaPlus®.
Installation
On installation I get the error message "Please contact your IT support for the installation of LewaPlus® as this requires administration rights." What should I do?
Beginning with LewaPlus® 2.1 there are two possibilities to install LewaPlus®. If you have administrative user rights on your computer, you may install LewaPlus® "For all users" at once. If you don't have administrative user rights it is possible to install LewaPlus® only for your account using the option "Only for me." Important: If LewaPlus® has already been installed using administrative user rights it is not directly possible to change the installation to "Only for me" during the update. Since LewaPlus® has been installed with administrative user rights it will still need these rights for the update to version 2.1 It is possible to change the installation type by uninstalling LewaPlus® and reinstalling it using the version 2.1. setup. During the uninstalling process you will be asked if you want to delete your user settings and projects. Be sure to answer "no" to this question.
I didn't receive the e-mail with the LewaPlus® license and installation instructions. What should I do?
In rare cases it might occur that you do not receive the e-mail with the LewaPlus® license and installation instructions. In that case please check the spam folder of your e-mail account or send an e-mail to lewaplus@lanxess-info.com
I can't open the license file I received via e-mail. What should I do?
Although the LewaPlus® license file is a simple Unicode UTF-8 encoded text file, Windows might refuse to open it since the file type is not associated with an application. For a proper installation of the software it's not necessary for you to open the file. Just save the file to your hard disk and locate the file when the setup application asks for it.
I get a security warning when I open the file and start the setup application. What should I do?
Windows issues such a warning for applications you have downloaded them from the Internet or copied them from another computer. Starting with LewaPlus® version 1.1 the setup application is digitally signed; that is, Windows will display the name of "LANXESS Deutschland GmbH" as the publisher of the software and you can inspect the certificate. If you have downloaded the LewaPlus® setup application from this website and see "LANXESS Deutschland GmbH" named as the publisher you can safely continue to run the setup application.
On installation I get the error message "License file format invalid" or "License invalid." What should I do?
These errors occur when the content of the LewaPlus® license file was corrupted or altered accidentally. Please make sure you have an unaltered copy of the license file you received via e-mail saved on disk. If the problem persists, please contact the LewaPlus® Support team.

On installation I get the error message "License expired." What should I do?
A LewaPlus® trial license is valid for installing LewaPlus® for only 4 weeks after the license has been issued. Thereafter you will receive this error message. Please contact the Support team, if you want to extend the test period, a new trial license will be issued for you.
Licensing and Support
What types of licenses are available for LewaPlus®?
LANXESS offers two types of license for LewaPlus®: a 60 day trial license, and a permanent license. You start by registering for a trial license. After 30 days you will be asked whether you would like to apply for a permanent license, but you may apply at any time by invoking the "register license" dialog from the help menu. If LewaPlus® is a useful tool for you and you decide to apply for a permanent license, you will be asked to provide some additional information about yourself, such as additional contact information, your position in your company, and your areas of interest. A request for approval is then sent to the LewaPlus support team. After approval a permanent license is sent to you via e-mail.

How can I get a permanent license for continued use of LewaPlus®?
You can apply for a permanent license (free of charge) at any time from within LewaPlus® by selecting "Help / Apply for permanent license" from the main menu, filling out the displayed form, and submitting it. Permanent licenses are usually approved within 3 workdays.
Can I use the same LewaPlus® registration both at home and at work?
Absolutely. You can use the same registered copy of LewaPlus® on multiple machines as long as it is not used by another person.
How can I get support?
Please contact the Support team if the LewaPlus® help and the FAQs don't answer your question.
Are you responsive to suggestions?
Yes! The LewaPlus® support team is delighted to receive feedback from our users. We want to build the best-of-breed design tool for ion exchange and reverse osmosis membrane systems so getting back "reports from the field" will help us to serve you better.
Technical Issues
What platforms are supported by LewaPlus®?
All recent 32-bit desktop Microsoft Windows platforms are supported – that's Windows Vista, Windows 7, Windows 8 and Windows 10. LewaPlus® is also compatible with the 64-bit versions of Windows 7 / 8 / 10.
I get errors when applying for a permanent license or when checking for LewaPlus® updates. Why?
LewaPlus® has to access the Internet to perform these actions. If this doesn't work it's very likely that your computer is located behind a company firewall and the LewaPlus® network settings were not set correctly. Please choose the option "Extra / Preferences" from the LewaPlus main menu, select the tab "Network settings," and adjust the proxy settings (for details see section "LewaPlus® user interface / Preferences" in the LewaPlus® help).

The LewaPlus® update doesn't run properly. What should I do?
Depending on your individual firewall and anti-virus software setup, it might be the case that the new update is blocked while downloading the update packages. We recommend to install the setup file. The setup process will detect an existing LewaPlus® installation and will offer to update it. The setup can be found on the LANXESS website.
The toolbar button "Check for updates" is gray. I can't update. What should I do?
If LewaPlus® has been fixed to the Windows taskbar, on starting LewaPlus® the toolbar button "Check for updates" is grayed out. The reason is that unfortunately the taskbar icon links to the wrong LewaPlus® component. Please use the LewaPlus® desktop icon to start LewaPlus®. Then the "Check for update" button will be accessible.

The user interface of LewaPlus® appears blurry or pixelated. What should I do?
This problem can occur in conjunction with Windows 7 or 10 and a high DPI display. It can be solved in the following way:
Close LewaPlus®
Right-click on the LewaPlus desktop shortcut
Open "Properties" menu
Change to tab "Compatibilty"
Activate the option "Disable Display Scaling On High DPI."
Open LewaPlus® again
LewaPlus® Trial License Request
If you would like a 60 day trial LewaPlus® software license, please enter your name and your e-mail address in the form below.
The license key and the program installation instructions will be sent to your e-mail address. You can apply for a permanent licence at any time during the trial period and also afterwards directly from LewaPlus®.
Download LewaPlus® Software
The portable version of LewaPlus® can be installed on removable mediums such as USB flash drives or external hard drives. Please use the main version of LewaPlus® if you do not wish to do this.