Brine purification with finely dispersed ion exchange resins
New chelating resins from LANXESS make brine treatment by chlor-alkali electrolysis more efficient and reliable. By better protecting the membranes they significantly save costs.
Producing materials and liquids such as PVC, paper, cellulose, disinfectants, and bleach, but also aluminium, requires the basic chemicals sodium hydroxide, chlorine gas or hydrogen, which are produced by chlor-alkali electrolysis of sodium chloride brine. In use since the 1970s, the membrane method reduces energy consumption by around one quarter while also eliminating the need for mercury or asbestos.
However, ion exchange membranes used in the process are highly sensitive. To prevent impurities from irreversibly damaging the cost-intensive fluorinated membranes, precision cleaning of the brine by ion exchange resins is required.
More efficient brine treatment
Thanks to LANXESS's Lewatit® MDS series of chelating resins, brine treatment by chlor-alkali electrolysis using the membrane method is now much safer, environmentally friendly and cost-efficient. The latest generation of finely dispersed ion exchange resins has proven itself in practice at a leading manufacturer of chlor-alkali products in India.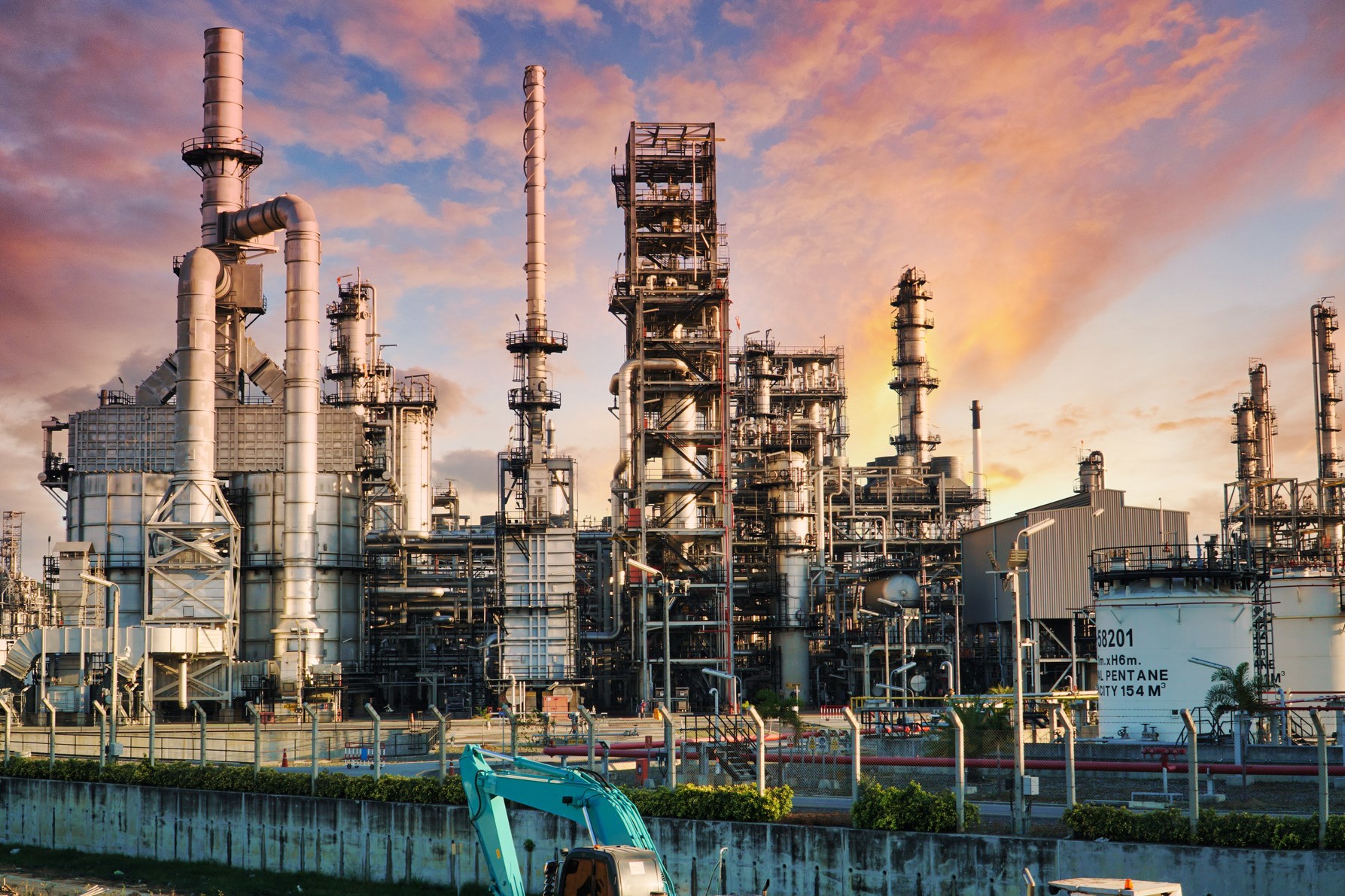 The chemical plant in southern India produces approximately 190 metric kilotons of caustic soda annually. This requires around 400 m3 of sodium chloride brine per hour that must be pretreated to remove any impurities. In addition to ion exchange resins of the Lewatit® MonoPlus TP 208 series, the manufacturer started to introduce the innovative Lewatit® MDS TP 208 chelate resin to the plant in 2016.
Plant details at a glance: Brine treatment at a chemical manufacturer in southern India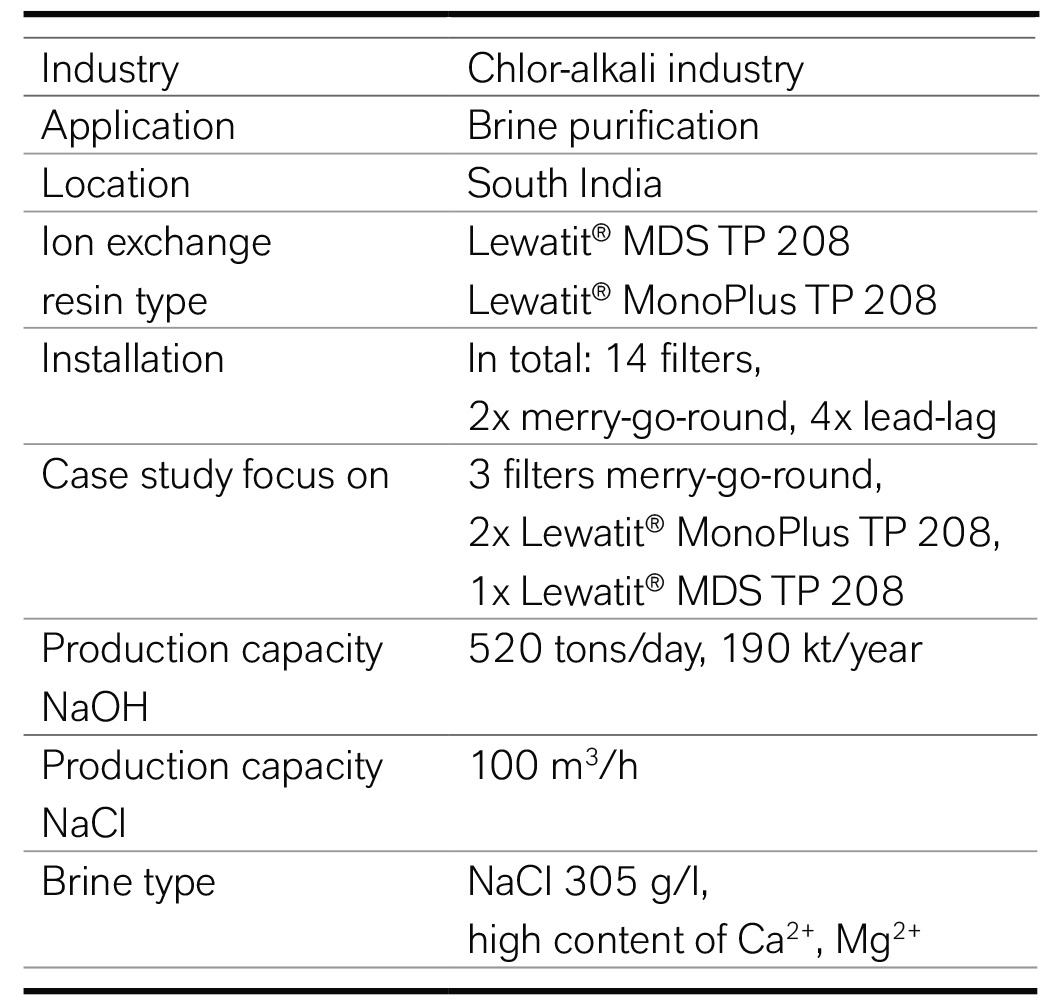 Precision cleaning with Lewatit® ion exchange resins
The treatment process consists of two steps. First the brine is subject to a primary cleaning and is filtered. Next, ion exchange resins come into play for the precision cleaning.

A total of 14 filters are in operation across six lines. They are designed to reduce the hardness of the brine from an incoming level of two milligram per liter to below ten micrograms (µg) per liter. Moreover, the process reduces barium and strontium levels to a concentration of less than 100 µg/l.

For the case study, in September 2016 one of three filters in a row, on one line, was equipped with the new finely dispersed resin Lewatit® MDS TP 208. The aim: test its performance compared to the previously used resin Lewatit® MonoPlus TP 208.
Higher throughput leads to greater efficiency
The result exceeded all expectations: the new ion exchangers significantly increased the actual useful capacity. Lewatit® MDS TP 208 boosted the rates of exchange and extended cycle times without negatively affecting brine quality. Plus, after eight months, the brine throughput of the filter equipped with MDS TP 208 increased from 4,480 to 6,660 bed volumes (BV).

The intake capacity of the resin grew from 9 grams of calcium per liter to 13.3 grams of calcium per liter, with an average increase of 49 percent. After two years, the intake capacity grew by 53 percent.

The positive results have led the manufacturer to retrofit the remaining filter systems with Lewatit® MDS TP 208 chelating resins.
The detailed case study, describing the brine treatment at a chemical manufacturer in southern India can be downloaded here.
Clear advantages: In a direct comparison with Lewatit® MonoPlus TP 208, Lewatit® MDS TP 208 comes out ahead in terms of brine throughput. The latter achieved 6,660 BV compared with 4,480 BV.
The below figure shows average breakthrough curves of Lewatit® MDS TP 208 and Lewatit® MonoPlus TP 208 over an 8-month period.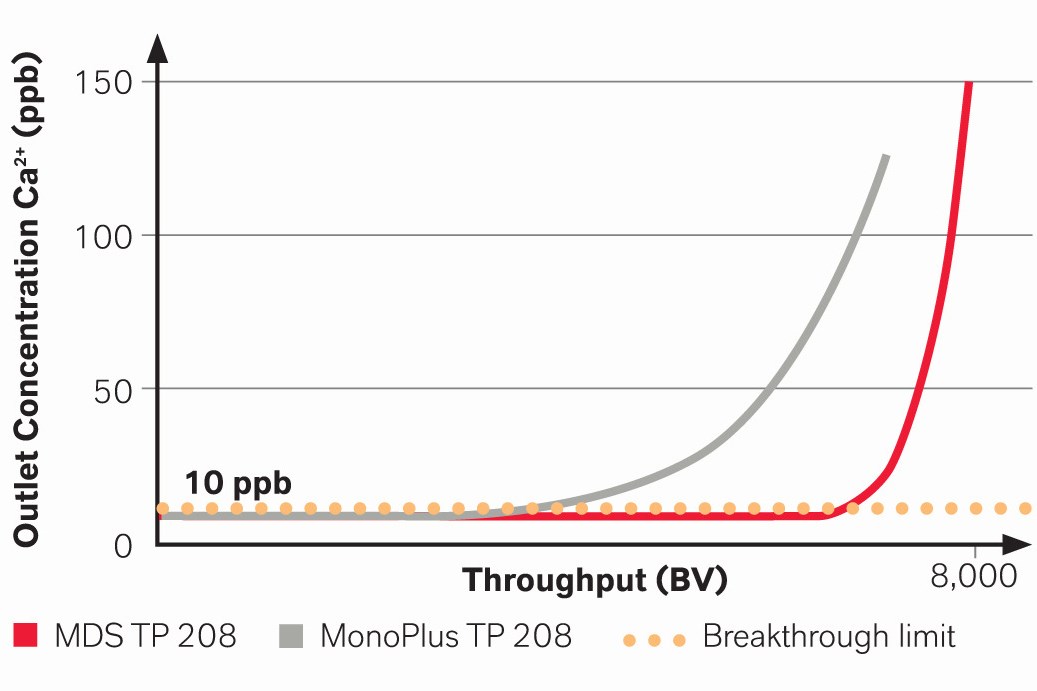 The bead radius is what counts
So what explains the difference between the Lewatit® MonoPlus TP 208 ion exchange resins and the Lewatit® MDS TP 208 chelating resins? The decisive factor is the diameter of the beads used in each. More specifically, the diameter of MDS (monodisperse small) grades, such as Lewatit® MDS TP 208, is just 390 µm. That's 40 percent smaller than the monodisperse grade Lewatit® MonoPlus TP 208.
Download relevant product literature now
Improved kinetics, a higher degree of regeneration, greater capacity
Here, the difference leads to clear advantages. MDS grades are characterized by improved kinetics, a higher degree of regeneration and a significant increase in total and actual usable capacity specifically for alkaline earth cations. Beyond binding calcium and magnesium, the innovative chelating resins are also better at removing strontium and barium. In parallel, MDS offer ideal mechanical and osmotic stability.
Efficient removal of barium and strontium on top
MDS resins are especially efficient at separating barium and strontium ions. "This is remarkable because of the low selectivity and slow exchange kinetics of many other resins," emphasized Dr. Jenny Böttger, Technical Marketing Manager at LANXESS. It's also an aspect customers increasingly pay attention to.

"Improved removal rates are a crucial advantage because reduced leakage helps to increase the lifespan of electrolysis membranes. In this regard, MDS resins have already anticipated the continual evolution of membranes. Their significantly lower concentration tolerances for alkaline earth ions enable them to protect membrane better", explained Jenny Böttger.
Many economical advantages
Lewatit® MDS chelating resins open up a wide world of economic advantages for electrolysis operators. In particular, they can save energy, primarily thanks to the following effects:
MDS chelating resins protect sensitive membranes and increase their lifespan.
Longer cycle times in operation allow MDS chelating resins to achieve higher throughput in brine treatment.
Their higher degree of regeneration reduces the amount of regenerant required when using MDS chelating resins. The result: a lower environmental impact and decreased operating costs.
In case of any questions or concerns, please contact us.