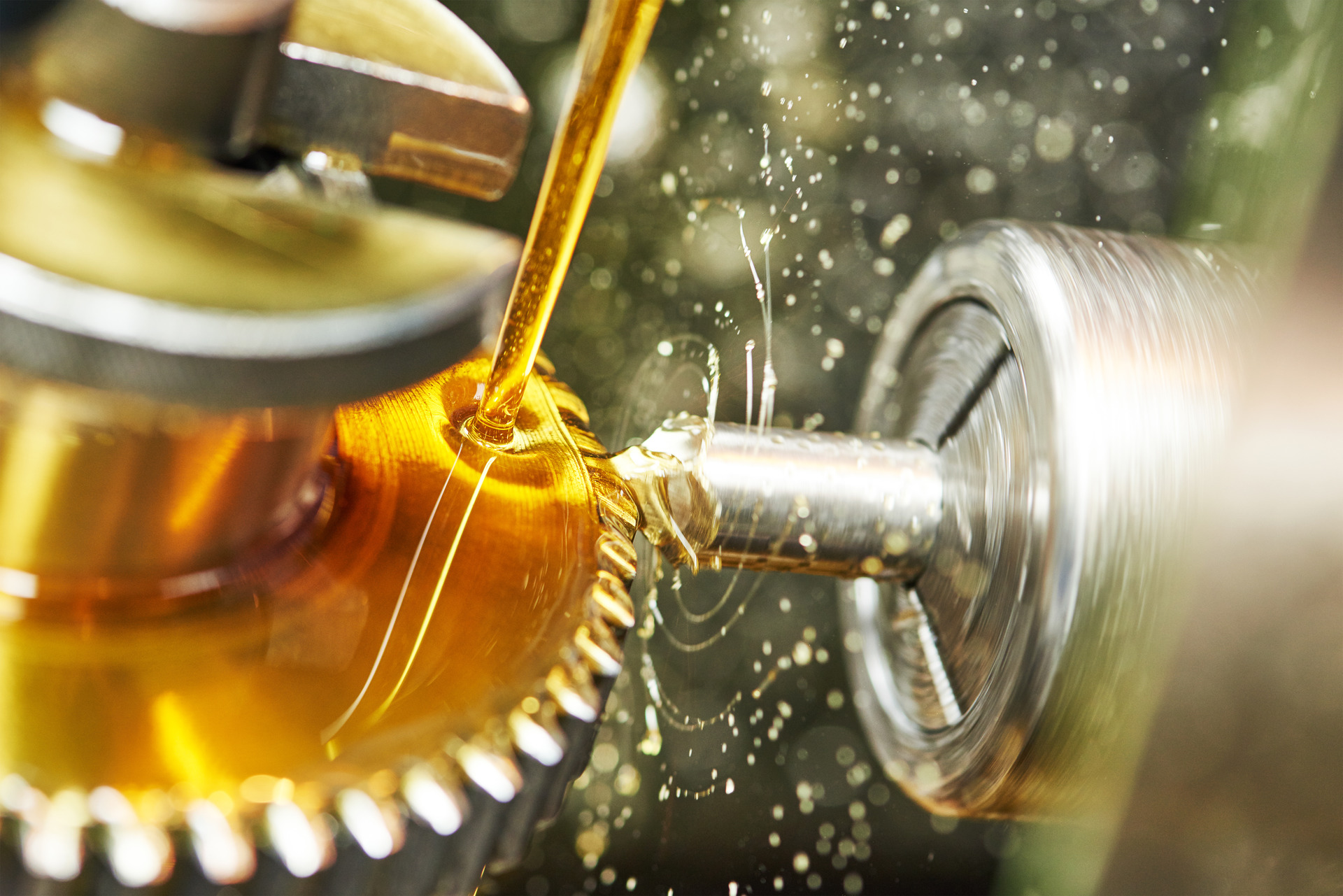 Lubricant Additives Business
Well lubricated and powerful
The Business Unit Lubricant Additives offers a comprehensive product portfolio of lubricants. It includes additives and additive systems, synthetic base fluids and ready-to-use lubricants.
Lubricants are an elementary component of all processes with moving parts. They ensure lower friction, reduce wear, protect against corrosion, enable optimum power transmission in hydraulic systems and transmissions and thus increase the service life of machines.
They are used, for example, in the automotive industry, mechanical engineering, metal processing, shipbuilding and even in the aviation industry.
Our business unit in numbers
Hero Brands
Additin® and Naugalube
Hatcol® and Synton®
Durad® and Reolube®

Additives and additive systems are sold under the brand names Additin®, Naugalube™, Calcinate, Hybase®, Lobase®.
Additives primarily for industrial applications are grouped together under the brand names: Additin®, Hybase® and Lobase®.
Additin® AO and NaugalubeTM
Lubricants age under the influence of heat, air, light and moisture. This applies in particular to the use of modern, highly refined base oils and oils from renewable resources. Without the use of antioxidants, they cannot meet the high requirements.

Our antioxidants in the Additin® and NaugalubeTM product range delay aging and thus extend the service life of lubricants and the machines and components lubricated with them.

The two product lines are based on aminic and phenolic primary antioxidants, as well as secondary antioxidants based on phosphorus and sulfur compounds
Additin® EP
Extreme Pressure (EP) additives are Sulphur-containing additives that reliably prevent cold welding of metal surfaces under high pressure. Typical applications for Additin® EP are metalworking processes, gear and bearing lubrication.
Additin® AW and FM
Machines and technical products are limited in their service life by wear. Not only to avoid high maintenance costs, but also to guarantee a high degree of reliability, powerful wear protection of the moving machine parts is required. The portfolio of our Additin® Anti Wear (AW) wear protection additives is as broad as the requirements of the various industries. Their chemical structure is optimally adapted to the respective lubricant application.

The friction of moving machine parts generates high energy losses. Taking environmental protection and cost efficiency into account, it makes sense to keep friction as low as possible. In contrast, when transmitting power in clutches, the friction should be intentionally high and as constant as possible during the service life. These challenges can be met by adding specially developed additives. Additin® Friction Modifier (FM) takes care of this.
Complete solutions Additin® package
The development of a high-performance lubricant is extremely complex. In addition to many years of experience, which is required to predict the complex interactions of a wide range of additives in the final lubricant, extensive laboratory and field tests are necessary. Only a few companies are able to meet these requirements in-house. The Additin
®
lubricant additive packages not only offer our customers easy access to the formulation of high-performance lubricants, they also guarantee the full performance spectrum of the respective application, even at the prescribed dosage.
Additin® CI, Additin® SP, Hybase, Lobase and Calcinate
This product family protects against oxidative decomposition of metals. Rusting is a phenomenon that occurs almost everywhere and all the time - in the household, as well as in industry. Preventing this generates high costs and requires different technologies.

In the lubricant industry, Additin® Corrosion Inhibitors (CI), protect ferrous metal components against corrosion. They form a protective film on the metal surface that prevents corrosive substances from attacking it. One area of application is corrosion protection oils applied to metal parts to protect them against corrosion during storage and transport. One example is overseas transport in container ships that are exposed to a highly corrosive salty environment for weeks on end.
Hatcol® and Synton®
The Hatcol® and Synton® brands stand for synthetic base fluids and are used, among other things, in high-performance lubricants.
The Hatcol® portfolio includes a wide range of di- and polyol esters, which are characterized by high purity and high temperature resistance. They are used in a wide range of applications such as motor oils, compressor oils and wind turbines.
Selected Hatcol® esters are approved for use in environmentally friendly lubricants bearing the EU Ecolabel.
Durad® and Reolube®
Durad® are flame-retardant wear protection additives with excellent temperature resistance. Critical applications such as aircraft turbines become safer with Durad®.

Reolube® lubricating oils ensure reliable lubrication in particularly temperature- and fire-critical applications. In steam turbines of power plants, Reolube® turbo fluids prevent the ignition of oil in case of a leakage at the steam control valve. A fire can thus be prevented.

Steel plants produce and process liquid steel at temperatures in excess of 1,000°C. Reolube® hydraulic fluids perform well in this severe environment.
Your advantage
We work closely with our customers worldwide and develop solutions with them - even for special requirements. In doing so, you benefit from our many years of experience and the comprehensive know-how that we bring to the table due to the broad range of industries in which we operate.